by Jen Stout Jun 3rd, 2015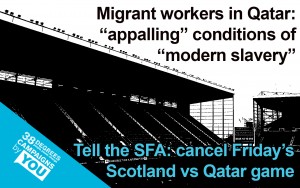 38 Degrees member Rab wants the Scottish Football Association to cancel Friday's game against Qatar at Easter Road, to show support for the hundreds of thousands of migrant workers who face 12-hour days, 'slavery' contracts, and appalling conditions on Qatar's construction sites.
Rab says:
"Qatar is responsible for awful working conditions of migrant workers who are building the infrastructure for the World Cup in 2022.
Forced to work 12 hour days in temperatures of up to 50°C, migrant workers in Qatar are dying in huge numbers.
Many of the 1.5 million of these workers are trapped in 'slave contracts' by employment agencies. Despite numerous reports, the Qatari government have failed to make real changes to protect the workers.
There should be a clear message to the Qatari authorities from Scottish football – we will not tolerate modern slavery and exploitation of workers"
If SFA won't cancel the game, fans are threatening to boycott it.
If you agree with Rab, sign his petition:
https://secure.38degrees.org.uk/Qatar-Easter-Road
A motion in the Scottish parliament urging the government to take a stand and cancel the game has been supported by a raft of MSPs from Labour, Scottish Greens and the Liberal Democrats. But no commitments from SNP or Conservative MSPs yet!
– –
If you disagree with Rab's petition or there's another issue that's close to your heart, you can start your own campaign here:
https://secure.38degrees.org.uk/visit-cby