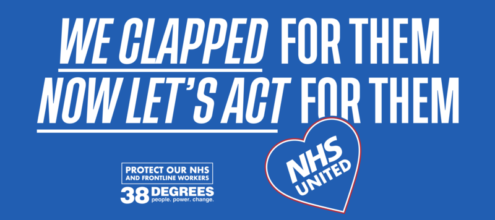 Join NHS United to help protect our NHS
Our country is facing an enormous crisis. The coronavirus pandemic has wreaked havoc on our already strained health service. But there's hope. The public outpouring of thanks for our NHS means this could be the moment we turn things around and come together to ensure it finally has what it needs to be the best healthcare system in the world. By joining NHS United, you'll be the first to hear about ways to support our NHS and our healthcare heroes. All you need to do is sign up here.
Boris Johnson: Don't break your promise on food and animal welfare standards in trade deals
The government is backtracking on its promise to protect the UK's high food and animal welfare standards when signing trade deals with countries like the US. It means products like hormone-pumped beef and chlorinated chicken could be heading our way - but this isn't just about food safety and animal welfare. It's also about protecting British farmers and their livelihoods from cheap imports that fall short of the standards they work hard to uphold.
Promises aren't enough. We're calling on Boris Johnson's government to put into law rules to ban food that violates our high animal welfare and food standards.