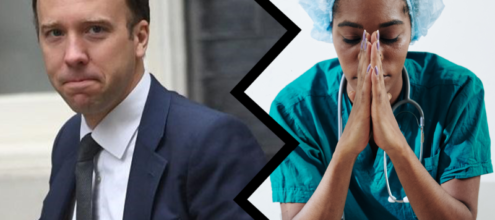 Matt Hancock: Back at least a 4% pay rise for nurses in England too
Conservative politicians in Scotland have announced that they are backing a 4% pay rise for nurses there - all while nurses in England are still set to receive a measly 1% increase. NHS staff all across the UK have all made sacrifices throughout the pandemic, so why are they being treated differently by members of the government's party across the border?
Every time 100 of us click "ASK HANCOCK" his office will receive an email notifying them. They'll be left in no doubt that we want to see our NHS workers rewarded.
Share Covid-19 vaccines with the world
Experts say temporarily waiving intellectual property rights on Covid-19 vaccines would be transformative in getting the Coronavirus pandemic under control.
The lack of vaccines in countries like India is creating a human catastrophe. Cases are spiralling out of control, and vital medical equipment is in desperately short supply. Without sufficient access to a vaccine, there is no end in sight.
We have already seen how new variants of the virus can develop when the virus runs unchecked and thwart efforts to control it. That means that nobody is safe from Covid-19 until everyone is safe.