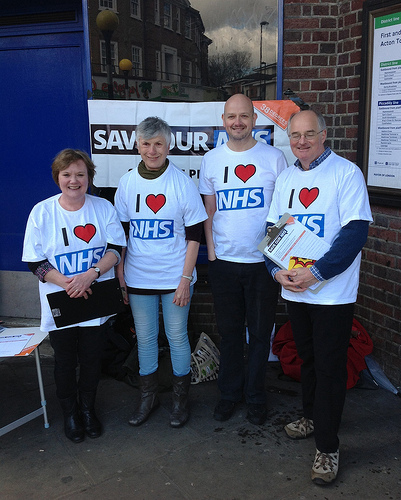 Apr 15th, 2015
Acton active to 'Save our NHS'
By Cara Bevington
On Saturday 11 April, 38 Degrees members held a stall outside Acton Town station. They had hundreds of conversations about why the NHS is such an importance election issue and added lots of local support to the massive 'Save our NHS' petition.
Local member Jeremy said he signed up to organise the stall because "the NHS has always been important to me… it has been there for me – as it has for my family and friends – in times of need.  That's why I believe it is important to support our health system and ensure its accessible to all."
This was Jeremy's first time organising a street stall with 38 Degrees. He said that while campaigning on the street can feel tough at times when people are rushing past you, that when you do get positive responses from people who are willing to stop, talk and sign up for the campaign it all feels worthwhile and very powerful!
38 Degrees members were also there to remind people that the deadline to register to vote is on 20 April. If you haven't registered yet, visit this website and have your national insurance number handy – it only takes 5 minutes to register.
This Thursday 16th April, 38 Degrees members will be gathering at the Drayton Court Hotel to watch the leaders' debate. All are welcome to join. More details and RSVP here.