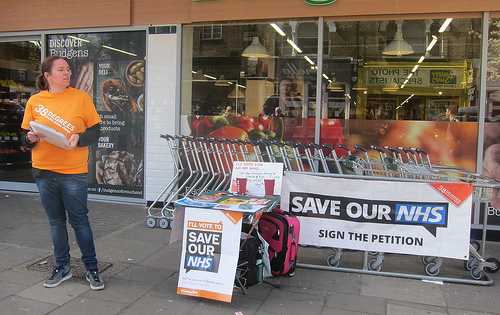 Apr 21st, 2015
Save Our NHS day 25th April: press release
By Rachel Oliver
You can copy and paste the template press releases below into an email to local journalists to tell them about your local 'Save our NHS' event. Remember to change the red text in square brackets to the details of your local event!
You should find contact details for your local papers here. Or if that doesn't work,  Google "the name of your local paper + news desk" and you should see the contact details for the editor.
——
TEMPLATE PRESS RELEASE TO SEND BEFORE THE NHS DAY OF ACTION
Embargo: for immediate release
Contact: [your name, your phone number and your email address].
Journalists are welcome to attend the day of action.
[area] locals challenge MP candidates on the NHS
Campaigners call on people to 'vote to protect the NHS' this election
[Area] people are set to put their MP candidates to the test with an NHS election protest on Saturday 25th April.
The day of action – held just eleven days before the general election – has been coordinated by independent campaign group 38 Degrees. It will see local campaigners talk to hundreds of voters about the importance of protecting the NHS at the general election.
They will take to the streets at [location of your day of action] at 11am on Saturday 25th April, joining thousands of other people protesting on the same day across England.
The campaigners are calling on people in [your constituency] to vote to protect the NHS in the general election, and will be challenging their MP candidates to protect the NHS from privatisation and funding freezes. They are also set to rate their MP candidates' pledges on the NHS using an online tool.
[Your name], a 38 Degrees member from [area] said: "[This quote is the place for you to write why you care about the NHS and why you want to challenge your local MP candidates by taking part in the day of action. Here's an example: 'Our NHS has always been there for me and my family when we've needed it. But some politicians seem determined to break it up and sell parts off to the highest bidder. The thought of my family being cared for by profit-making companies really scares me. That's why I'm going out in [location] this Saturday with lots of others to spread the word that the way we vote on 7th May could determine whether our NHS is still there for our children and grandchildren.']"
David Babbs, executive director of 38 Degrees said: "This Saturday, people in [area] will be talking to hundreds of voters about how their vote could protect the NHS this election.
"We want [area's] MP candidates to see that the best way to win votes is to pledge to save the NHS from privatisation and funding freezes. Every candidate needs to realise that cutting NHS funding, or handing it over to private companies, is a huge turn off for voters.
"Saturday's day of action is all about the people of [area] taking back the power, and putting their MP candidates to the test on the NHS."
The [area] petition to save the NHS is at: www.38degrees.org.uk/nhs
Notes to editors
38 Degrees is one of the UK's biggest campaigning communities, with over 3 million members. 38 Degrees brings you together with other people to take action on the issues that matter to you and bring about real change in the UK.