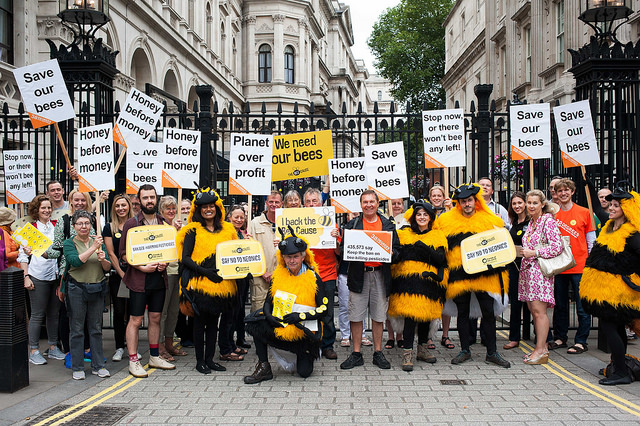 Jul 22nd, 2015
Government approves bee-killing pesticides: press release
By Rebecca Falcon
For immediate release
For more info contact: emailtheteam@38degrees.org.uk, or contact Rebecca Falcon, Campaigns Manager on Twitter @rfalcon_
Bee-killing pesticides approved despite lack of government transparency and public outrage
The government has approved an application to use bee-killing neonicotinoid pesticides on British fields – but the lack of transparency around the decision has angered campaigners.
The minutes of the Expert Committee on Pesticides (ECP), who advise the government on the scientific risk of pesticide use, have been withheld. Defra also delayed making an announcement about the application until after recess.
Half a million people signed a 38 Degrees petition to uphold the ban on bee killing pesticides, and today #savebees trended on Twitter in the UK. They say that the pesticides are a serious risk to Britain's bee population and other wildlife.
It's been reported that the expert committee advised Defra to reject the application to use the pesticides made by the National Farmers Union (NFU).
Defra has ordered officials to withhold minutes from ECP meetings stretching back to 20th May, which are usually published within three weeks. This includes minutes from a meeting on the 7th July about the NFU's application.
Major biochemical companies are set to profit from today's announcement, including Syngenta, who have been forced to pull similar applications in the past following public opposition to the use of the chemicals.
Rebecca Falcon, campaigns manager at 38 Degrees says: "Half a million people have signed a 38 Degrees petition urging politicians to keep the ban on bee-killing pesticides. But despite reports of a clear verdict from a committee of experts, the government have taken the side of big business and approved these harmful chemicals.
"The secrecy around this application is deeply worrying. If the government has nothing to hide, why is it withholding vital information from the public?
"The scientific evidence that these pesticides harm our bees and other wildlife is growing all the time. These toxic pesticides have no place in our gardens and fields."
ENDS
Notes to editors
The petition to keep the ban is expected to reach half a million people today: https://secure.38degrees.org.uk/keep-the-ban
About 38 Degrees
38 Degrees is one of the UK's biggest campaigning communities, with over 3 million members. 38 Degrees brings you together with other people to take action on the issues that matter to you and bring about real change in the UK.