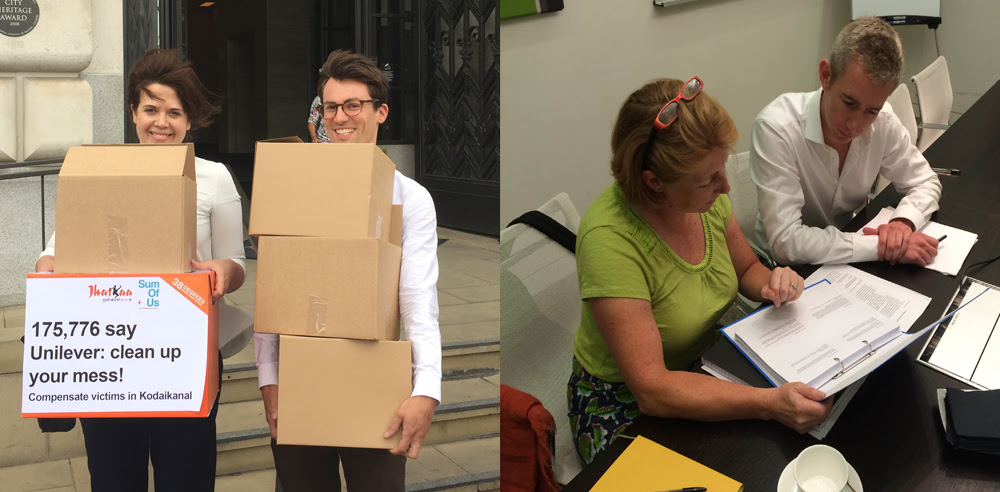 Aug 17th, 2015
Unilever meeting – update
By Laura Townshend
On Friday, David and Laura from the 38 Degrees staff team met senior bosses at Unilever's global HQ in London, to discuss the deadly mercury spill at their factory in India.
The only reason Unilever asked for a meeting was because of the efforts of thousands of 38 Degrees members. The Unilever bosses were handed the petition signatures and thousands of messages from concerned customers – and they didn't try to hide the pressure this was putting on their business.
They admitted that 38 Degrees members' Facebook, Twitter, email and phone messages had been impossible for them to ignore.
Unilever asked us to pass this message on to 38 Degrees members: "We're grateful for the effort people have taken in submitting their concerns, and we share their desire to reach a just settlement as soon as possible."
Unilever accepted there was a mercury problem at the factory. They accepted that it's taken too long to sort it all out.
They disputed some of our facts – you can read their full response on their website here. Campaigners in India don't agree with everything Unilever has said, so you can read what they say here. But in the meeting, Unilever accepted the need to "reach a just settlement as soon as possible".
Unilever make some of Britain's best-known brands: Hellman's Mayonnaise, Marmite, PG Tips. As 38 Degrees members based in the UK – many of us Unilever customers – we have used our uniquely strong position to push them to behave properly in other parts of the world.
This meeting was never going to be the end of the campaign – that requires Unilever to reach a fair agreement with those in India affected by the mercury spill. But after meeting Unilever, it's clear that our campaigning is helping.
We can't relax or take anything for granted until a fair deal is reached. But we can definitely feel confident that our actions are helping push things in the right direction.
We're working in solidarity with campaigners in India, and with those directly affected by the toxic mercury spill. We're using our power as shoppers and as citizens to tell this very British company to treat people who worked in its factories properly.
By all working together, as shoppers, employees, and campaigners, we're starting to shift Unilever.