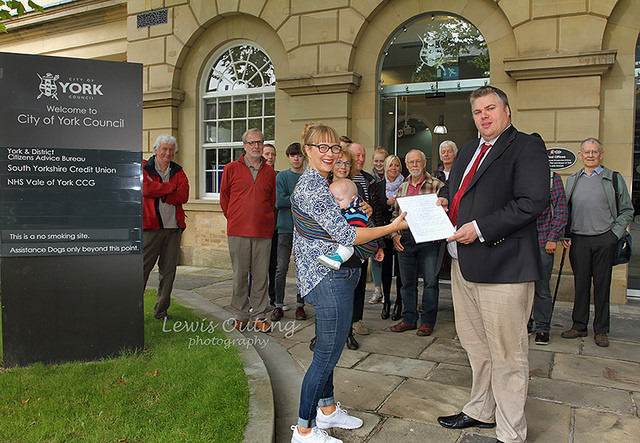 Sep 17th, 2015
#RefugeesWelcome in York – success!
By Robin Priestley
As a response to the refugee crisis, 38 Degrees members across the country have set up hundreds of campaigns asking their councils to offer homes to families in need.
The petition in York was set up by 38 Degrees member Alice, already over 1300 people have signed.  Last night Alice and a group of petition signers handed in the petition to York Council.
Here's what Alice had to say:
"We have handed in our petition yesterday and with over 1300 signatures it felt great.
What seemed like a lot of empty words, by our head of York Council Chris Steward, was challenged and questioned by other 38degrees members and myself. Last night the council announced to take on 60 refugees over the next five years. A great start but we still need to keep behind it to make sure we start acting now and not only within the next five years.
We won't give in until we have answers to following questions which we have put into writing to Councillor Steward:
– How many refugees is York able to take? (We got that one answered last night, 60)
– Where are they going to live?
– Who will care for their health and mental support?
– How will they learn English?
– Will they be able to work?
– Where will their children go to school and how will they be included?
– How will general inclusion be supported?
We also asked Councillor Steward as our representative to the government to push for quick action which will take place now and won't be delayed longer. He told us the answer to most of the questions will be he doesn't know yet.
So let's keep up the good work to make sure actions speak louder than words.
A press article regarding the handover:
http://www.yorkpress.co.uk/news/13738936.1_200_sign_petition_calling_for_York_to_do_more_to_help_refugees/
And the link to my interview on BBC Radio York yesterday morning.
Listen to it at about 1h13mins in:
http://www.bbc.co.uk/programmes/p031cr16#play
Thank you again so much for your support. The petition would have been nothing without you!"