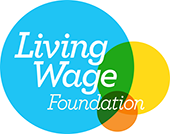 Oct 2nd, 2015
Living Wage vs. National Living Wage. Spot the difference.
By Sarah Holtam
The term 'Living Wage' is an old old term, but in July's budget, George Osborne claimed it as his own by announcing the introduction of a 'National Living Wage'. So what exactly has George Osborne proposed and how is it different from the National Minimum Wage and other Living Wage campaigns?
George Osborne's 'National Living Wage'
Replaces the current National Minimum Wage from the current £6.50 per hour, first to to £7.20 and finally rising to £9 per hour by 2020. Only for over 25 year olds. The National Minimum Wage is calculated based on what the economic markets can afford to pay.
This new increase to the minimum wage will see over 2.5 million workers receive a much needed pay rise which will make all the difference for households and is absolutely to be celebrated.
But the branding of this as a 'Living Wage' has confused us all and complicated an important issue.
So what's the 'Living Wage'?
It's calculated annually according to how much it actually costs to live and applies to all workers (including under 25 year olds). It is currently £9.15 in London and £7.85 in the rest of the UK and will be reassessed in November.
Since 2001, companies have voluntarily signed up to become accredited Living Wage Employers. Born from a grassroots campaign – Citizens UK and the Living Wage foundation have been building relationships with employers and proudly flying the Living Wage flag. Many companies have voluntarily signed up to this scheme, including large employers like KPMG, National Rail and Save the Children, recognising that their staff need more than the minimum wage.
So let's understand George Osborne's 'National Living Wage' as a replacement for the National Minimum Wage for over 25 year olds.
And let's keep up the fight for the Living Wage: an independently rate calculated according to the actual cost of basic living in the UK.