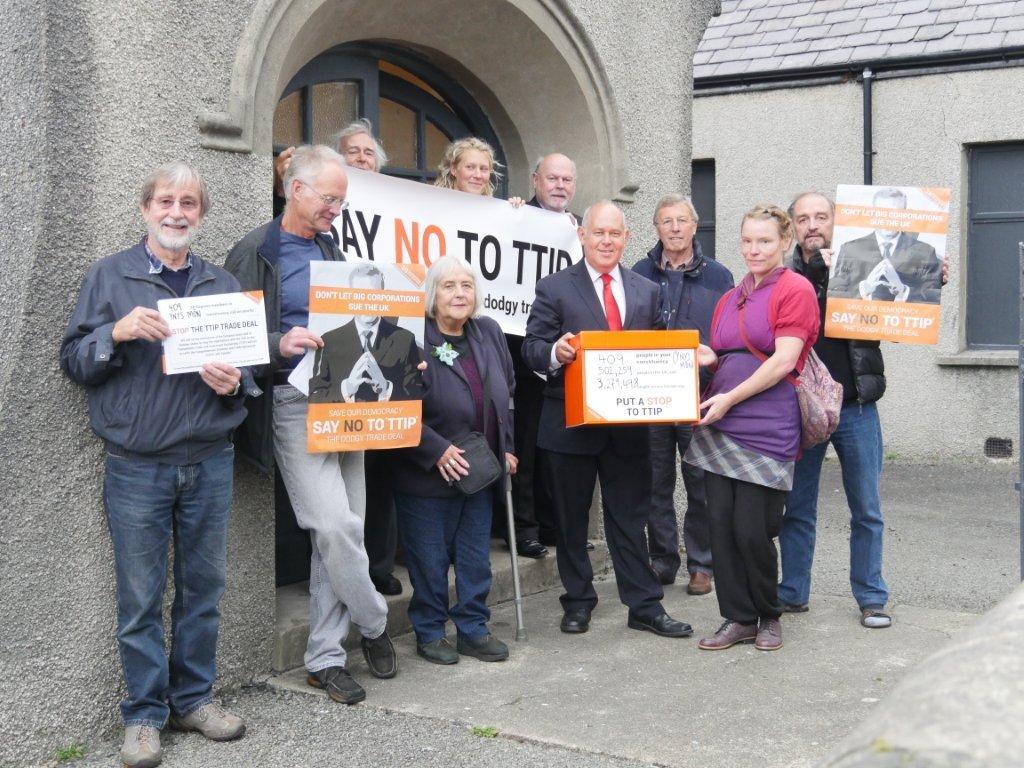 Oct 20th, 2015
TTIP Petition Hand-ins: continued
By Megan Bentall
TTIP petition hand ins are still happening across the country! Here are more 38 Degrees members talking about how their event went:
Helen – Ynys Mon: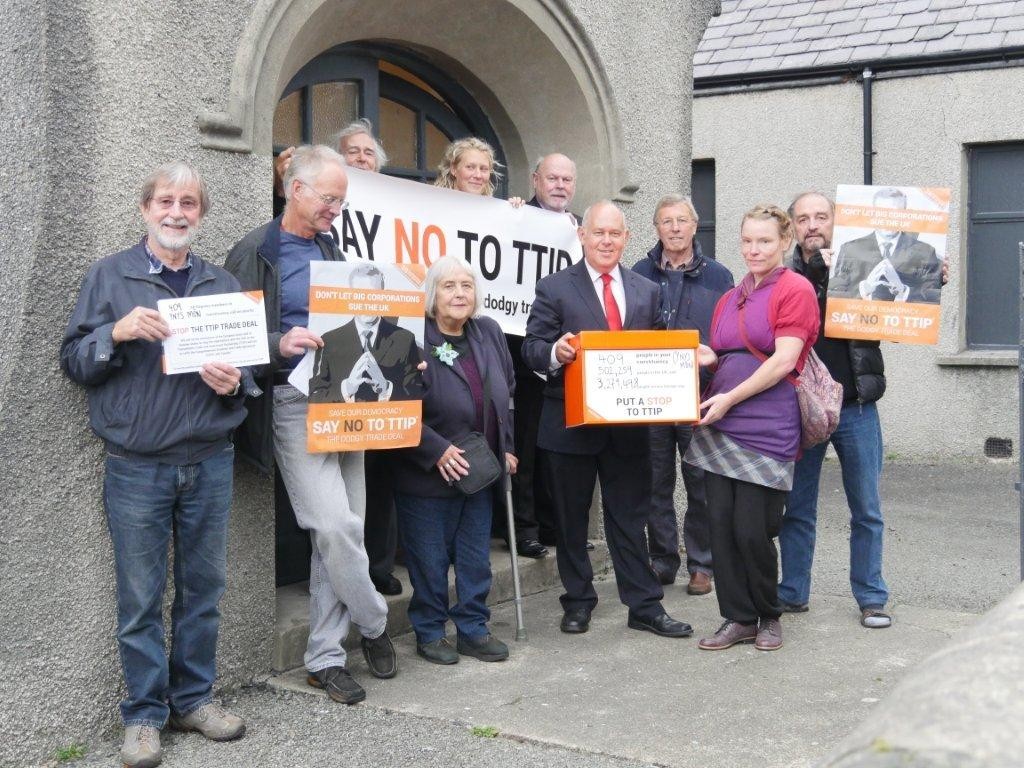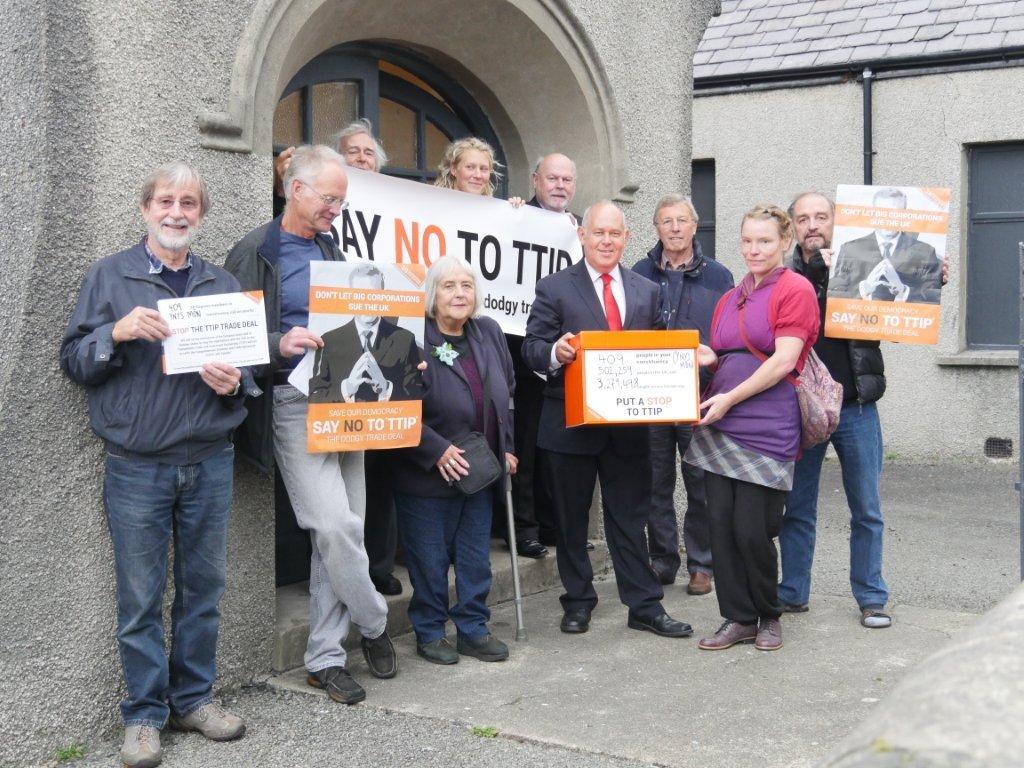 The petition hand-in that we did on Ynys Mon (Anglesey) constituency was really exiting. I found it very empowering collecting the signatures in September, as part of 38 degress' TTIP day of action. I have never met with my MP, but this is an issue that affects us all, and I feel happy that I have done something.
Malcolm, Birmingham, Selly Oak: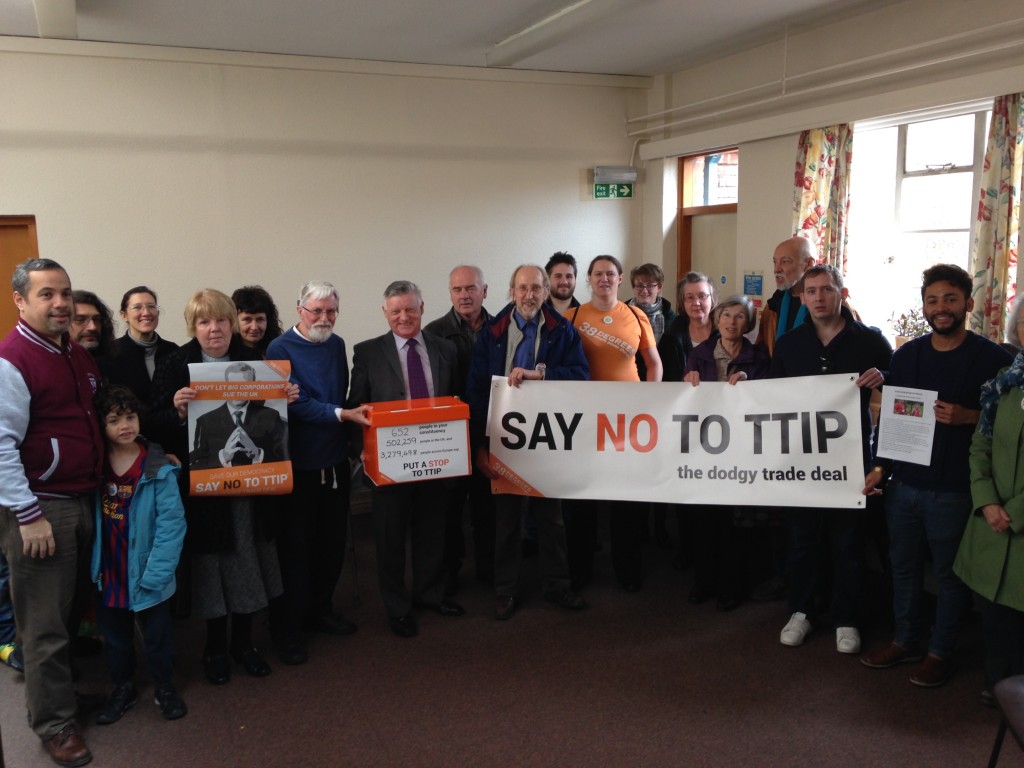 All credit to my constituency M.P.  who cheerfully received all fifteen of us AND a few extra such as our seven year old Rafael who presented him with the petition.
On a learning curve is where he is on the subject but he gave a presentation and took points and questions.
He volunteered to take it up with Angela Eagle the relevant shadow minister
Barbara, Wirral West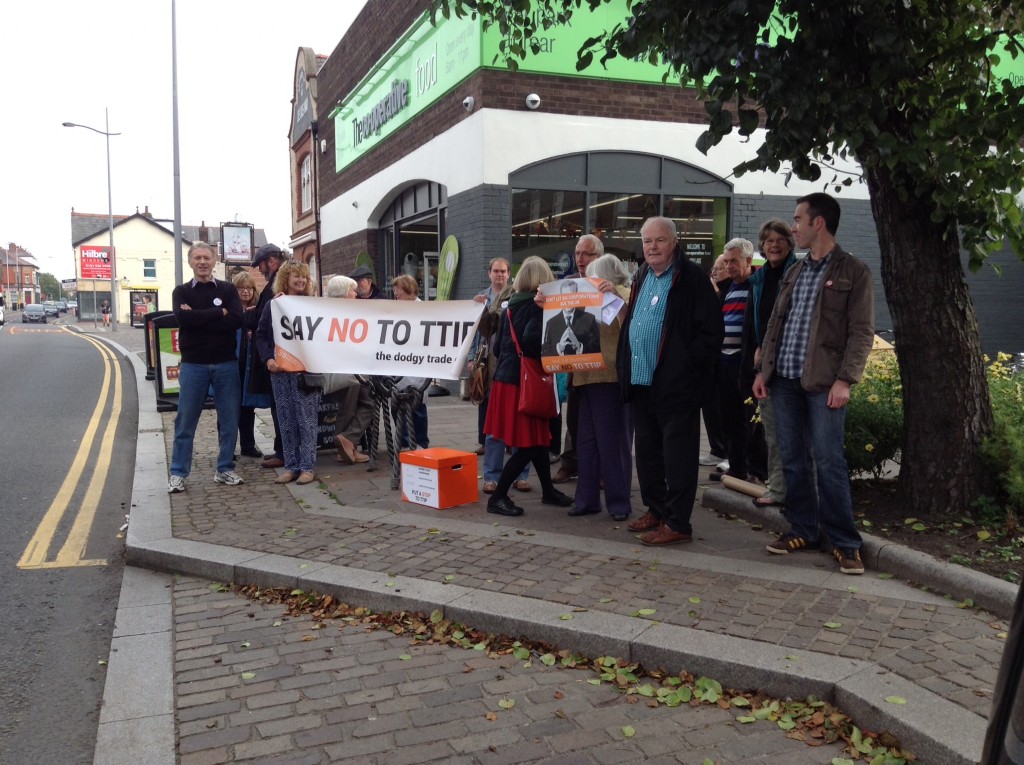 We arrived 5 or 10 minutes early to find a good crowd already gathering on the pavement opposite the office of our MP, Margaret Greenwood. There was a big "SAY NO TO TTIP" banner which was attracting interest from passers-by. I was struck as usual by the surprise expressed by most people, hardly anyone had heard of it at all.
I was also pleasantly surprised to find that I knew less than half the crowd assembled. They were mostly people who followed 38 Degrees online but had not been coming to meetings. Really great to meet them.
Margaret Greenwood MP arrived at 11am and entered her office so I went over to say hello and bring her to meet the rest of us. Those of us who have met Margaret before were confident of her support for 38 Degrees' opposition to TTIP and we were right. She came over and met everyone, chatted to all individuals and accepted the petition from Mark. There were lots of photo opportunities such as when John Gorman, Liverpool poet, actor, writer, member of The Scaffold and local celebrity, was spotted nearby and persuaded to join us.
It was a cheerful and cheering morning, a good culmination to our Saturdays raising awareness and collecting signatures and in the knowledge that similar events were happening all over the UK and Europe.
Geraldine, Sheffield, Hallam
We had a very successful event at Nick Clegg's constituency office in Sheffield Hallam on Thursday 15th October.  Approximately 17 members attended the event.
Campaigners went away delighted with the event and the way Mr Clegg engaged with us and Ellen Beardmore at The Star said that he gave a glowing report about us. He was apparently delighted by how informed we all sounded.
Prior to the event, I contacted a journalist who writes for both of our local newspapers. She wrote the following article which appeared in Sheffield Telegraph on Saturday 17th October 2015:
Dan, Stafford:
Many thanks to those who attended, and those who gathered signatures/raised awareness! Dave, Sue, Lynne to name a few.
A group of us spoke to the local MP, about our concerns with regard to TTIP.
Amongst other negative aspects, t he fact that this trade agreement is still being conducted in secrecy, is an affront to democracy.
Thumbs down to TTIP!
Gail, North East Leeds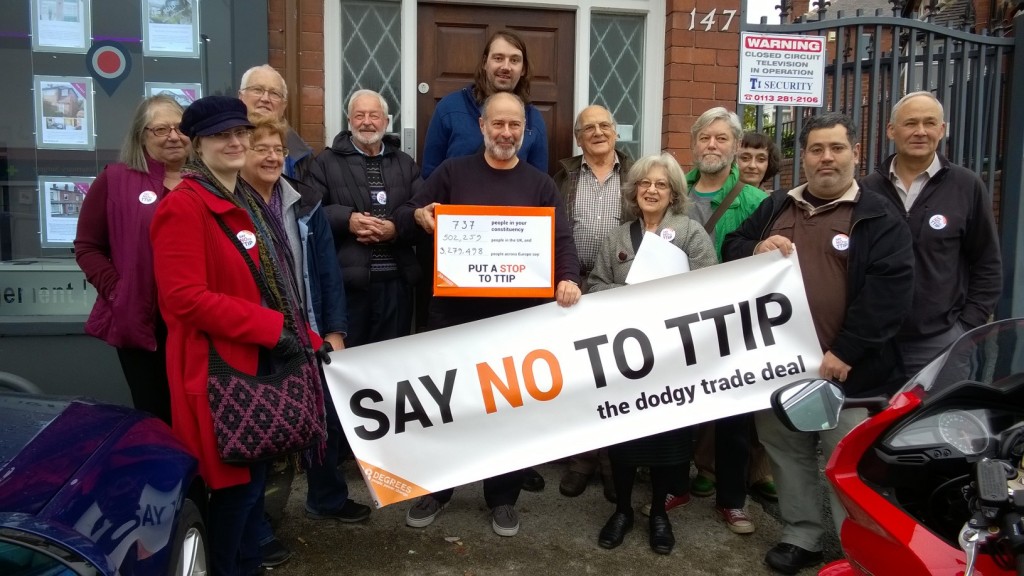 We had a good turnout to present the TTIP petition to Fabian Hamilton today. FH spent a long time discussing his position regarding TTIP. He supports a fair and open trade treaty but will resist, he says, privatisation of public services, reduction in employment rights and work conditions for workers, threats to sovereignty and territoriality.
As the government has an overwhelming voting majority over combined opposition MPs, he suggested 38 Degrees target the constituencies of MPs, and the MPs themselves, who would be most likely to vote against their own party, either from an ultra right wing position, ie against TTIP's threat to the UK's sovereignty, or from the centrist position of defending the NHS against TTIP.