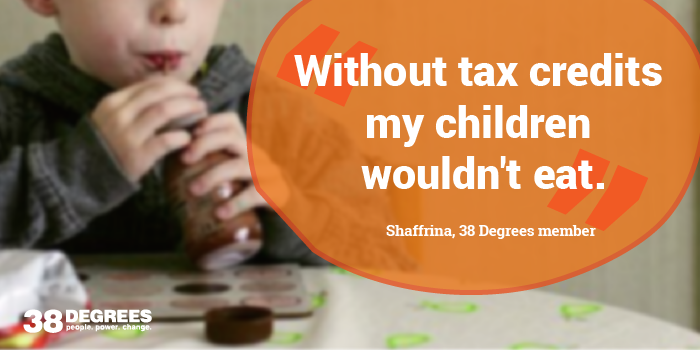 Oct 29th, 2015
Tax Credits: Keep the pressure on!
By Kahra Wayland-Larty
We're starting to win on tax credits. After 270,000 of us signed a petition opposing George Osborne's cruel cuts to working families, the House of Lords sent him back to the drawing board.
But the next 24 hours are going to be crucial. Conservative MPs have a crunch meeting with George Osborne tonight, and another chance to vote against the cuts tomorrow. Osborne's been forced to promise to rewrite his plans.
Certain MPs, many Conservatives, have already opposed the Chancellor on tax credit cuts, after pressure from 38 Degrees members. Others are yet to speak out – Osborne will be hoping that these MPs will let him get away with pushing the same cuts through behind closed doors.
If more MPs start to speak out against these terrible cuts, Osborne will realise he's only got one option: scrap plans to take money away from Britain's poorest, lowest paid working families.
Please can you email your MP now to let them know that you'll be watching what they say on tax credits?
Over the next couple of days, MPs will be meeting with George Osborne and will vote on a cross-party proposal to make the cuts less savage. Osborne will be trying his best to stop them speaking out against the cuts. It's up to us to make sure our MPs tell him that these cuts will harm families up and down the country and that they will continue to oppose them.
We know our pressure works – and so does parliament. Let's make sure every MP knows that we'll be watching what they do – and that we'll tell our friends, family, neighbours, social media and the local press about how we judge their actions. Click here if you'd like to send an email to your MP.