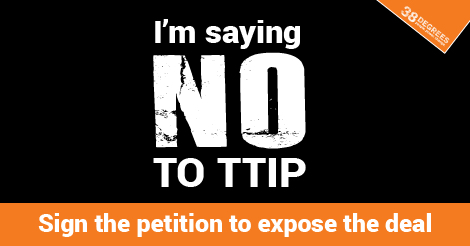 Dec 11th, 2015
38 Degrees members call on MPs to speak out against TTIP in Parliament
By Becca McCarthy
Below is an email sent to 38 Degrees members ahead of the TTIP debate in Parliament yesterday, calling members to ask their MPs to speak out in the debate.
Check the transcript of the debate here to see if your MP spoke out against TTIP.
Here's the email:

In 48 hours, our MPs are going to debate TTIP, the dodgy trade deal between the EU and US. [1] This is a rare opportunity for us to make sure our MPs speak out against the deal in front of the government Minister responsible. Together, we can make sure our MPs, and the government, know that we're still against TTIP.
Picture this: On Thursday morning at the debate, a stream of MPs take to their feet to tell the government that they've been inundated with emails from their constituents and the message is loud and clear – we oppose TTIP. The government will be left in no doubt that we see the deal for what it is: a sinister corporate power grab and a threat to our democracy.
Will you email your MP asking them to speak out, on your behalf, against TTIP? There's some suggested text that you can use, so it'll only take 2 minutes to send the email.
TTIP is a danger to our way of life; it could affect our NHS, our environment and our democracy. Under TTIP, corporations could get the right to sue us if they don't like our laws. [2]
Thursday's debate has been called by a cross-party group of MPs who think parliament should have more of a say on TTIP – even MPs think the deal is too secretive! [3] Officials and diplomats across Europe and the US are likely to be watching closely. Together, we can show them that when David Cameron says he wants to put 'rocket boosters' under TTIP, he doesn't speak for us. If we can persuade enough MPs to turn up and voice concerns about TTIP, it could really rock the boat.
But this all hinges on our MPs hearing from us. They need to know why TTIP is bad, and that we expect them to show up and represent our views.
Just this summer, 38 Degrees members and other campaigners persuaded over half of UK MEPs (our politicians in the European Parliament) to oppose TTIP. But we need to make sure MPs feel the heat too – and that means making sure they know we want them to speak up on our behalf at every opportunity. When we come together as a force, we can take on enormous challenges: the stakes are high with TTIP, so we need to do everything we can to stop this dodgy deal.
Thanks for being involved,
Amy, Rachel, Megan, Blanche and the 38 Degrees team
NOTES:
[1] This last-minute debate has been called by Geraint Davies, Zac Goldsmith and Caroline Lucas. They want MPs to be able to properly scrutinise TTIP. We know that the more people know about this dodgy deal, the more likely they are to turn against it, so more scrutiny of TTIP can only be a good thing for our campaign to scrap it.
The debate is a backbench business debate, which is a chance for some MPs to call for a debate on an issue they care about or want extra scrutiny on.
Parliament UK: How the Backbench Business Committee works:
http://www.parliament.uk/business/committees/committees-a-z/commons-select/backbench-business-committee/how-the-backbench-business-committee-works/
[2] TTIP will affect every aspect of our lives, from the NHS to democracy. It:
Threatens our public services
Transfers powers to big businesses and away from us
Weakens our safety standards
Lets huge corporations sue governments over regulations they don't like
Weakens our employment rights
38 Degrees: The campaign against TTIP:
https://secure.38degrees.org.uk/pages/ttip_home
Information on TTIP:
https://home.38degrees.org.uk/2014/10/12/information-on-ttip/
The Independent: What is TTIP? And six reasons why the answer should scare you:
http://www.independent.co.uk/voices/comment/what-is-ttip-and-six-reasons-why-the-answer-should-scare-you-9779688.html
[3] Geraint Davies MP (Labour), Zac Goldsmith MP (Conservative) and Caroline Lucas MP (Green) have put forward the debate together.