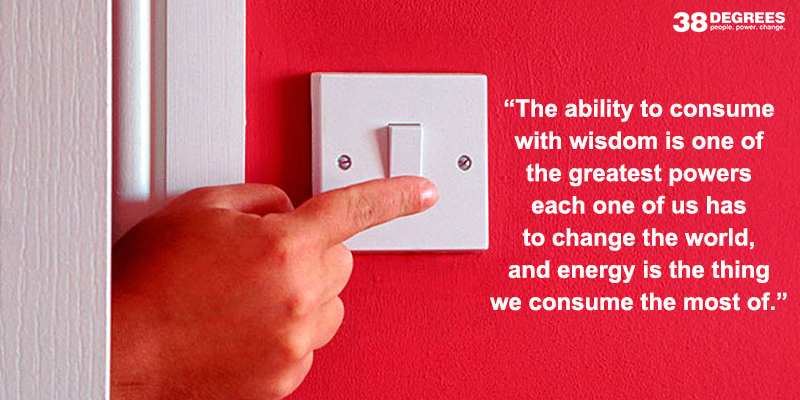 Feb 18th, 2016
3 things the Eon scandal tells us about the energy market
By Rachel Diamond
You might have seen the news about Eon – one of the UK's Big Six energy companies – making a dodgy deal with charity AgeUK. Elderly people were offered a special rate on their gas and electricity bills. But it turns out it was actually more expensive than some deals Eon sells to everyone else. Eon's now withdrawn this so-called special offer after widespread criticism.
We already knew the energy market was rigged against us. That the Big Six chase profit above everything else. And now it seems they've been caught doing it again.
But as 38 Degrees members we have the power to do more than just feel angry. We can take the power back from the Big Six by collectively moving away from them. We've done this before.
Here's the difference between deals like the one Eon made with AgeUK, and how 38 Degrees does things:
Eon & AgeUK
Bosses from Eon and AgeUK agree a deal with each other.
AgeUK gets as many people as possible to switch over to Eon
38 Degrees people-powered switching
38 Degrees members set the criteria for what we want to see in an energy provider
Once that's agreed, any members who're interested in switching throw their hats in the ring via an online survey
Our partner, the Big Deal – energy experts who campaign against the Big Six rip-off culture – uses the thousands of us interested in switching to negotiate the best deal with energy companies that meet the criteria we set together
38 Degrees members use an accredited website to compare the deal with their existing tariff and check that it will actually save them money, and what else is on the market, before deciding to switch
Spot the difference?
Collective switching is an incredible way of showing our power as consumers. It says to the Big Six cartel that we've had enough and we're taking back the power.
So here's 3 things there should be more of in the world of switching…
1
The Clean Switch was about flexing our consumer muscle in a positive way. 38 Degrees members got involved in switching because it took power away from rip-off energy companies and put it back with the people.
For too long we've been ripped off by energy companies who keep prices high – cheating us out of a fair deal and destroying our environment. But we have the power. We can vote with our feet – and take our business elsewhere.
2
38 Degrees is built on people power – what we do is based on what our members decide. Together we've ranked collectively switching away from rip-off energy companies as something we should do together:
If it was easy to do, and gave you cheaper bills, would you join a campaign to switch your energy provider away from rip-off companies like British Gas and Npower?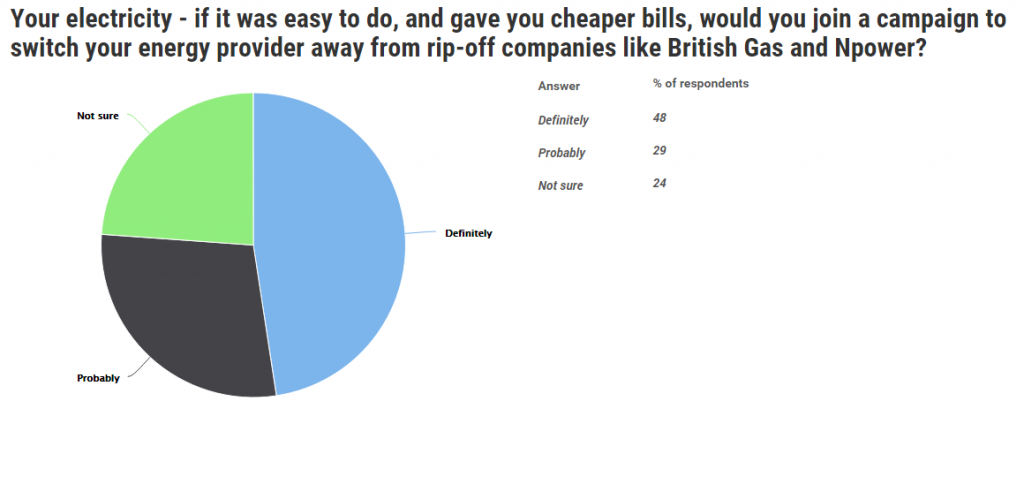 And when we came together to do our first ever collective switch, 38 Degrees members were at the heart of the decisions made. Members chose what kind of companies to switch to – whether to prioritise renewable energy, cheap prices or good customer service.
What we ended up with as a result was a collective switch which represented and respected members. And with the added bonus of helping the environment. Miles away from what Eon does!
3
38 Degrees members know that the Big Six are ripping people off, and doing it at the expense of the environment. So when it came to our own collective switch, working with dodgy companies like Eon was a non-starter!
Instead 38 Degrees teamed up with the Big Deal. The Big Deal are energy experts who campaign against the Big Six rip-off culture (in fact, it was the Big Deal who helped expose the dodgy Eon-AgeUK deal). They fiercely negotiated on our behalf for fair energy deals. We subsequently invited the head of the Big Deal to join the board of 38 Degrees – so that we always have expert advice on tap about how we can take back the power from the Big Six.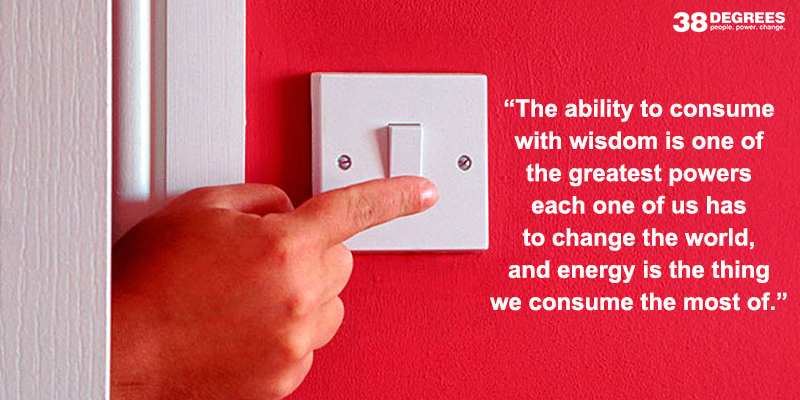 We know there are always risks involved in being part of a switch as a people-powered organisation, as it involves making deals (albeit people-powered deals) with a company. Working with a partner like the Big Deal ensures 38 Degrees stays independent of any individual energy company. This avoids one of the problems AgeUK had in their partnership with Eon. 38 Degrees contracts the Big Deal to do the bargaining with energy companies, so that we can stay focused on being people-powered.
Working with The Big Deal means we don't risk our independence by entering into a direct financial relationship with an energy company.
But there are still other risks to be aware of, and other choices to make. It's standard practice when a customer switches energy company for the organisation that's prompted the switch to get paid commission. If 38 Degrees entered into a direct relationship with one energy company, like AgeUK did, this could be as high as £40 per switch. Working with the Big Deal means that this commission is shared, and 38 Degrees receives up to £20. When surveyed, 38 Degrees members have said they're happy for 38 Degrees to receive this money as it can be spent on campaigning and doesn't come with any strings attached. But we still need to be careful we don't get dependent on it.
Inviting the founder of the Big Deal, Henry de Zoete, onto the 38 Degrees board made sense. He brings expertise on people powered switching as well as being a strong supporter of 38 Degrees' mission. But the Big Deal also stand to make some money from their partnership with 38 Degrees, through taking a share of the switch commission. This could lead to Henry having a conflict of interest. 38 Degrees has strong policies in place to avoid this influencing any decisions about the future of the partnership. Including full disclosure of all board members' interests and strong conflict of interest rules. These rules mean that if the Board ever discusses the Big Deal partnership, Henry has to leave the room and doesn't have a vote.
Overall, the staff team reckons this adds up to a much better approach to energy switching than that adopted by AgeUK when they partnered with Eon. But that doesn't mean it's perfect. If you have suggestions for how it could be better, please comment below.