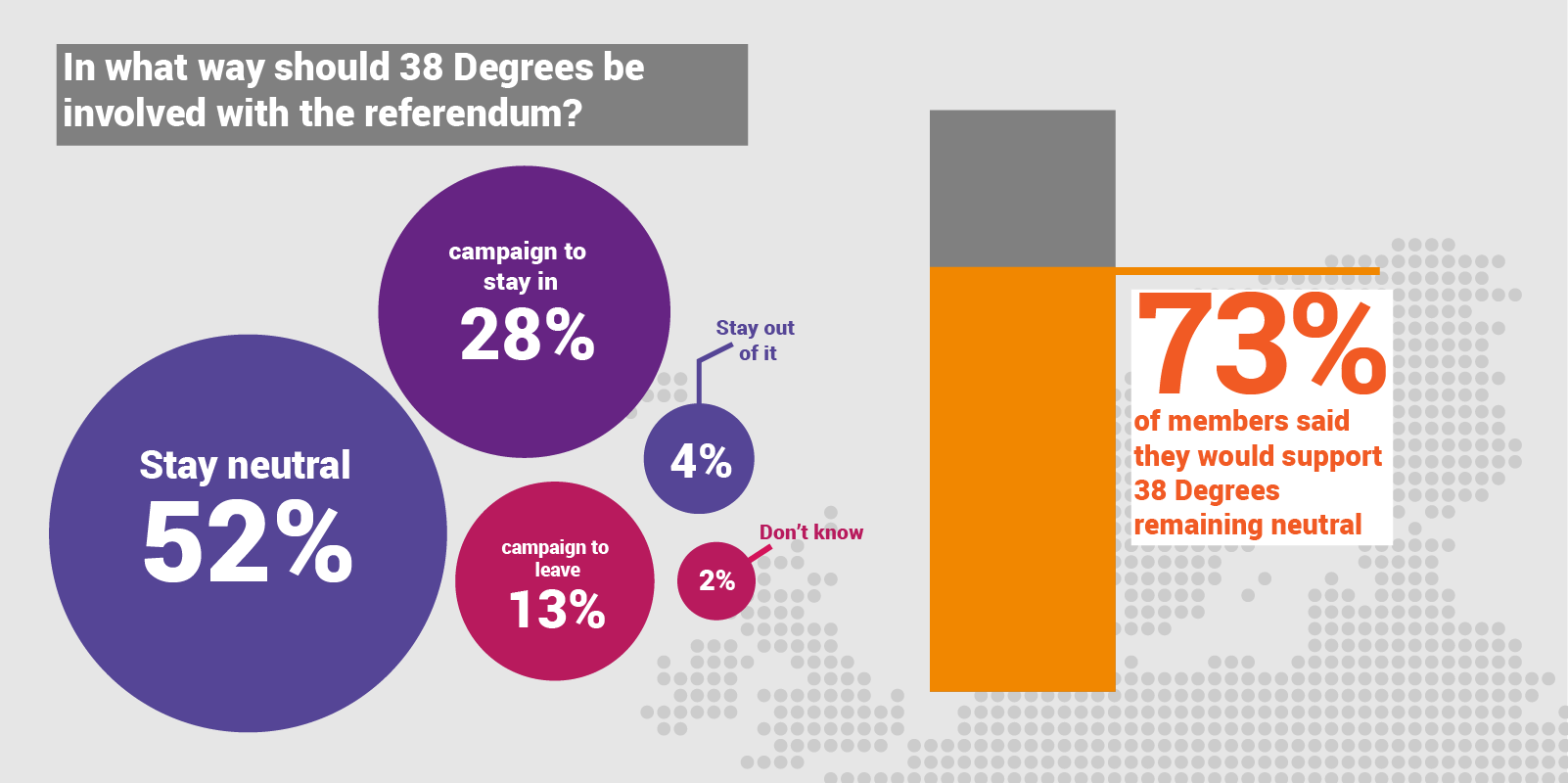 Mar 7th, 2016
38 Degrees and the EU referendum: results are in
By bex
A whopping 230,000 of us took part in the survey to decide what we should do together in the run-up to the EU referendum – and the results are in.
As you'd imagine from a movement as large and diverse as we are, we don't all agree on everything. But on one thing there was overwhelming consensus: 38 Degrees has a place in this referendum. And 38 Degrees members are ready to get involved.
Most of us said that 38 Degrees shouldn't pick a side, and should stay firmly independent instead. As one member put it: "This is an opportunity for the British public to make an informed decision. 38 Degrees needs to inform the public about the facts so that they can make these decisions."
Based on all these results, our people-powered plan for the referendum is taking shape. We decided together to do what we do best – stay out of the party politics, use people power to cut through the spin on both sides – and give voters the chance to get the real facts.

Out of all the options on the table, more than half of us voted for 38 Degrees to stay neutral during the referendum (52%). And three quarters of us agreed we'd support the decision not to pick a side, but to provide the real facts and challenge the spin (73%).
Here's a quick summary of the results: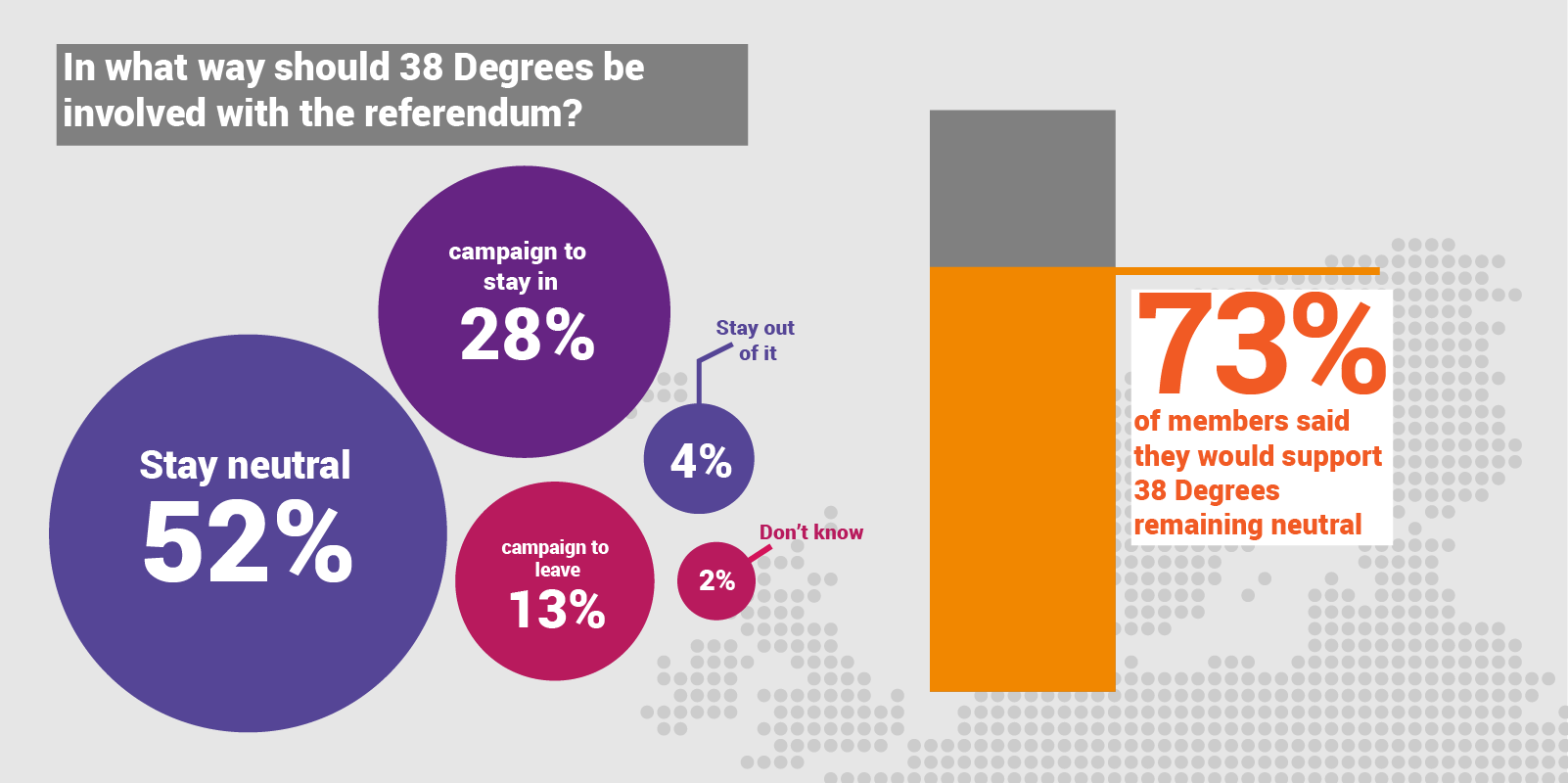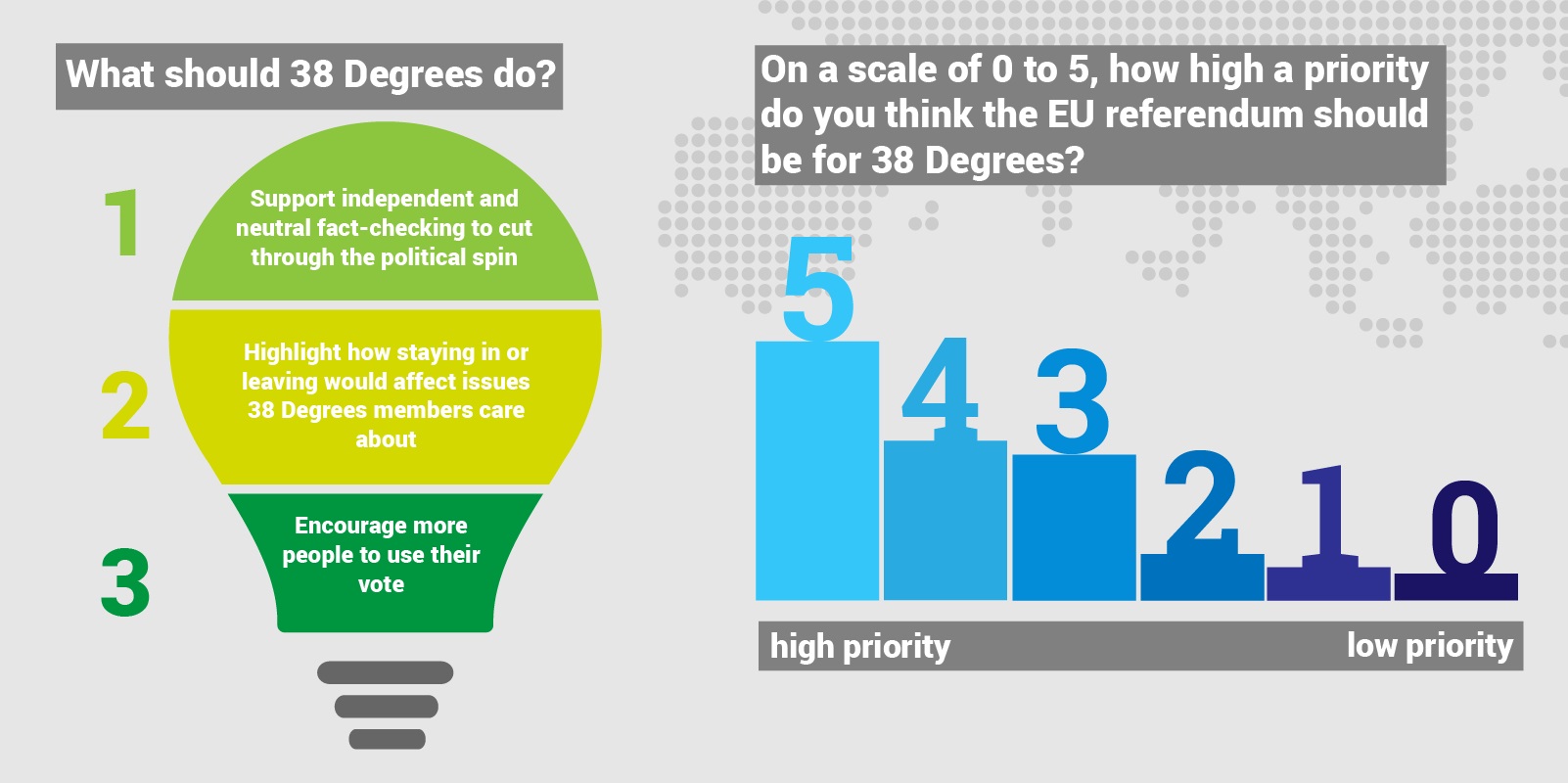 There's so much we can do together to make this a reality. Together, we could:
– Get a team of experts to run fact-checking investigations on how the issues we all care about will be affected by staying or leaving the EU – like our NHS, or protecting the bees
– Build new websites, like a quiz, that will help voters weigh up the facts to decide how they should vote
– Create viral videos that get shared all over the internet, calling out politicians on both sides on lies or half-truths
– Make media-grabbing headlines by running polls and investigations that cut through the media spin coming out of Westminster
– Pool our resources to make sure people from all walks of life have the information they need to vote with the facts in mind. From newspaper adverts to billboards to beer mats, we can make sure that – unbiased facts about this referendum are plastered everywhere
38 Degrees belongs to all of us – and we make our decisions together. So what do you think? Are you on board with the plan? Share your thoughts in the comment section below.

This referendum could be a huge moment for people power. Unlike the elections where we elect our MPs, every vote in a referendum is equal, no matter how close the race is where you live. And with millions of us working together, 38 Degrees members could have real power to make sure that every vote cast is based on the facts, rather than biased political spin.
No option was off the table when deciding what we should do together – from throwing our weight behind the in or out campaign, to not doing anything at all. If you want to take a look at the full breakdown of the survey results, you can read them here.
We know that we make our best plans when we work together. And we know that democracy, and our country's future, is too important to leave to politicians. That's where we come in – and it starts today.