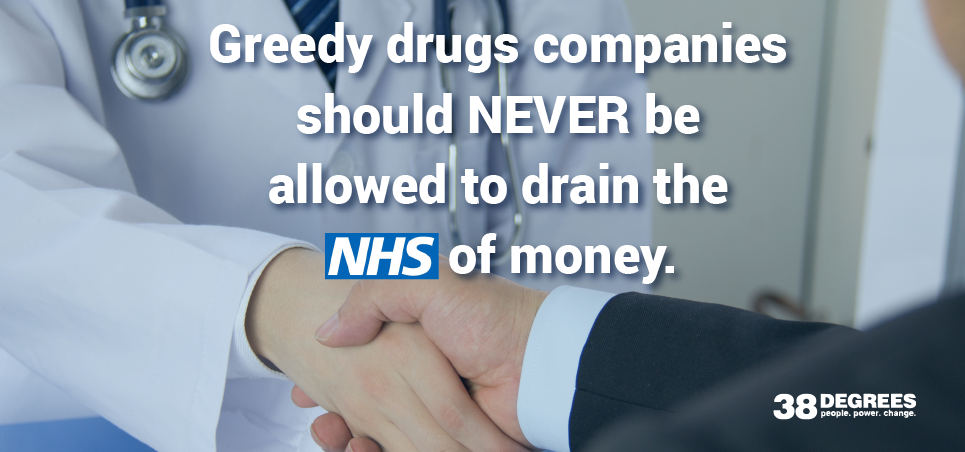 Jun 7th, 2016
Exposed: NHS Drugs Scam
By Becca McCarthy
EXPOSED: A small number of rogue drugs companies are fleecing the NHS out of millions of pounds a year.
They're exploiting a loophole that allows them to buy up the rights to everyday medicines, hike up the price, and hold our NHS to ransom. It means our cash-strapped health service is forced to spend millions on overpriced drugs rather than spending it on nurses to care for our families or cancer services to help our friends in need.
The story was exposed in the papers last week, and over 70,000 members of 38 Degrees have already signed a big petition. The government's under so much pressure that they've already called for an investigation.  A huge wave of public pressure could give them the push they need to go further and shut this loophole for good.
Please can you sign the petition? It takes less than 10 seconds:
https://speakout.38degrees.org.uk/campaigns/close-NHS-drugs-loophole
The scale of the problem has only just been revealed. An investigation in The Times found that the NHS is paying £85 for a basic skin care treatment that used to cost just 70p. Price hikes like this are a scam. They could break our NHS.
The government's got the power to stop this happening – but they've been putting it off. This news makes it clear just how damaging this loophole is. If tens of thousands of us sign a huge petition demanding they shut the loophole now it could shame them into taking action.
Can you sign the petition today?
https://speakout.38degrees.org.uk/campaigns/close-NHS-drugs-loophole
38 Degrees is a movement of people who believe the NHS should be about patients – not profit. And unless we come to together now, shady businesses will continue squeezing our NHS until it breaks. The NHS is there for us through thick and thin, so let's come together now to make sure it'll keep saving lives for decades to come.