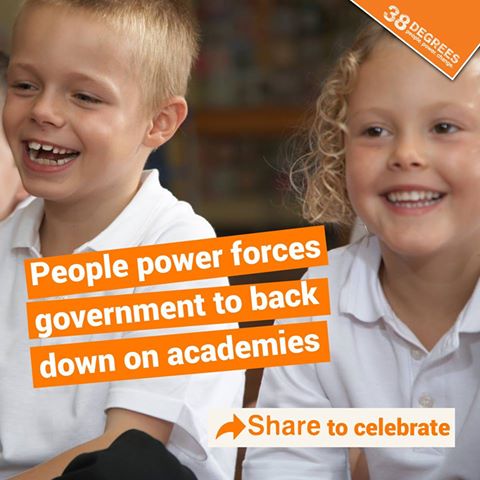 Jul 18th, 2016
How people-power forced the government to back down
By 38 Degrees team
What's happened?
Our people-powered campaign has paid off. The government has now dropped plans to force every school to become an academy.
What does this mean?
Well, these changes would have seen businesses or Westminster bureaucrats in running schools across the country. Now, the decisions over our children's education can stay with the parents, teachers, and councils.
How did this happen?
There's no denying that this is a fantastic result for everyone involved. Especially, all of us 38 Degrees members who joined in to help stand up for local schools. Together we sent a clear message to the government: our children's education is too important to risk. Here's a run down of a few ways we helped deliver this win:
93% of 38 Degrees members voted to campaign to stop the government's plans
Over 113,000 of us signed the petition to David Cameron
Over 56,000 of us helped put our MPs on the spot by emailing them to ask them to defend local schools
We spread the truth about the government's plan by sharing 53,000 posts on Facebook
Thousands of 38 Degrees members got involved in 85 separate local campaigns to protect schools in their area
So, thousands of us came together to say no to something we thought was wrong, and to stand up for great local schools in our towns and villages. And we won.
Whether it was Honey from Sheffield gathering over a thousand signatures in a matter of days for her petition to save King Edward VII school, or Jane from Northamptonshire making headlines in her campaign to protect Moulton Primary School from being turned into an academy. 38 Degrees members were at the heart of this campaign. Showing that when we all speak out together we make real change happen.
What's next?
There's still a lot to be done: on the NHS, on tax-dodging, on TTIP, on local issues across England. But today, let's celebrate – for now at least, we don't have to worry about all our schools being turned into academies. Why not share this success with your friends and family?