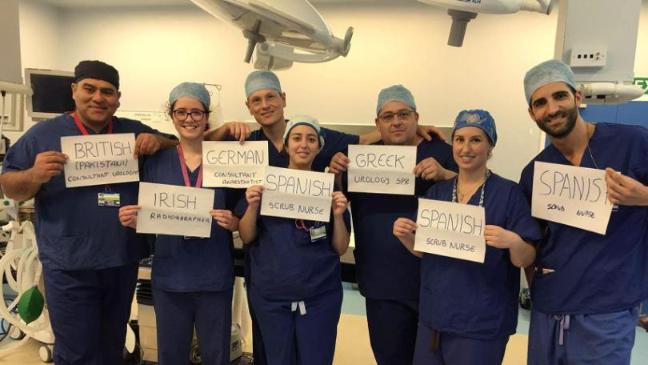 Jul 21st, 2016
Our NHS needs EU citizens
By Kathryn Stribley
The government still hasn't said whether EU workers in our NHS will be allowed to stay after Brexit. Whether it's a nurse from Spain or a heart surgeon from France, these staff keep our NHS going – and we can't afford to lose them. 
Theresa May will be wavering over whether they can stay. NHS bosses and other MPs are already speaking out.  A huge petition could tip her to into promising that NHS staff have the right to stay in the UK.
The longer we wait, the more likely it is that the 55,000 EU staff who keep our NHS going will pack their bags and leave.
The NHS relies on staff from EU countries. They're our doctors, nurses, receptionists and other staff who keep the NHS going.
For the sake of our NHS, please guarantee the rights of EU staff to continue living in the UK right now.
1 in every 10 doctors in the UK is an EU citizen. From midwives caring for newborn babies, to A&E doctors treating us in emergencies, NHS staff are always there for when we need them. Britain simply can't afford to lose them.
Here's what Peter, a 38 Degrees member, said:
"My partner has been here since 1971 working in the NHS. She has paid and still pays her taxes, as well as contributing to all aspects of this country. The UK needs her as much as I do."
It's not too late to add your name to the petition. Follow the link here, https://secure.38degrees.org.uk/eu-nhs-staff