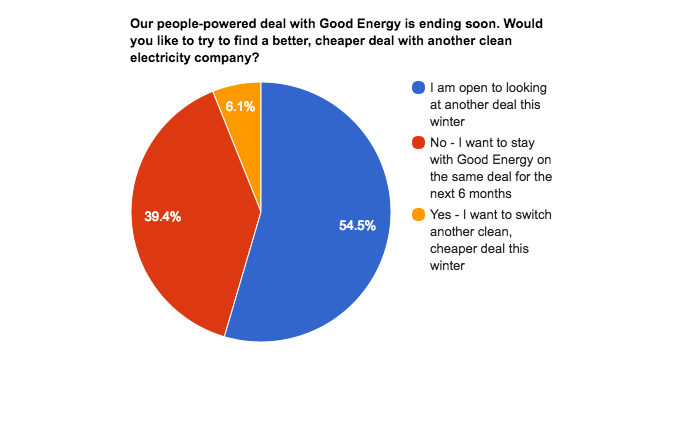 Sep 23rd, 2016
Good Energy and our electricity: the poll results
By 38 Degrees team
Last year, thousands of us came together to make 38 Degrees history when we shifted our business from the dirty energy of the Big 6 to a better and cleaner deal for our planet – and we saved a pretty chunk of change while doing it!
This month, we came together again to decide if we wanted to shop around for another cheaper, clean deal for our electricity and gas. Here are the results of that poll, and what we decided together:
In the end, most of us – in total, 60% – are open to looking at another deal this winter
Lots of us are still happy to stay with Good Energy, too
So what's next? Well, it looks like none of us are on the edge of our seats to switch right now. So those of us who want to stay with Good Energy don't need to do anything (and there's no exit fees if you change your mind before February).
For those of us who want to shop around, we've got a great chance this winter. 38 Degrees members will come together again in November to ditch the rip-off, polluting 'Big Six' and bargain a clean, cheap people-powered deal for our electricity. [3] It's going to involve thousands of us, and you can join in too.
In the meantime, you can help shape what a new winter deal looks like. We'll all have ideas about what we want from our electricity bills. Can you fill in this short survey to let us know your thoughts on what another clean electricity switch should look like for 38 Degrees members?