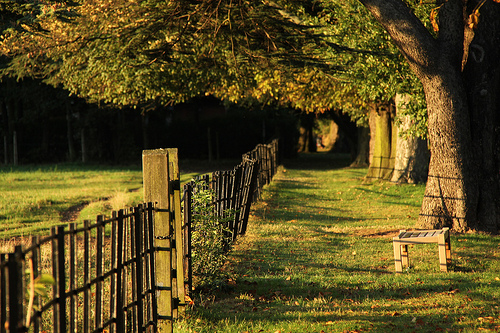 Sep 29th, 2016
Protect Our Parks
By Freya Campbell
Wherever you go, whoever you ask, it's pretty much a guarantee that they've spent at least a little time in a local park.
And with good reason – parks are great! There's so much variation in what you're going to find there, and they inspire such a great sense of community. Most people have favourites; parks they visit regularly with their kids or dogs or just to go for a run. These park regulars all know each other – there's no way they couldn't, seeing each other everyday.
But it's also because parks are completely informal. They have no set purpose, and so their possibilities are endless. There's no pressure to socialise, but there's also no unspoken rule against it. You don't need a reason like kids or dogs or exercise to go there, either – you're totally free to go there for whatever reason you want.
Parks are freeing, so it's only right that they're also free. If you're here, it's probably because you're a 38 Degrees member, or you have an interest in the organisation. Either way, you might already know that funding for national parks is continuously being cut, leaving them vulnerable to privatisation. This means that we could be charged to use our local parks, or deprived of them altogether.
38 Degrees has launched a campaign to urge the government to protect our parks, which you can sign here: https://secure.38degrees.org.uk/save-our-parks, but lots of people are probably wondering if parks are important enough to deserve protection.
Here's the thing – there's no way of really knowing the impact something has on your life until it's gone.
Of course, we can still try. So take a moment, once you're done reading this, to close your eyes and think about your local park. Even if you don't use it anymore, think back to a time when you did. Think of the people in your life who do. Think of the people who might.
Public parks are something worth protecting. They're such a massive part of the lives of so many people, and 38 Degrees members have been speaking out about what parks mean to them, and what they love most about parks.
"Sit in fresh air and watch my kids being happy" – Lee
"Open well kept gardens & space for people. I live on my own & going to park with dog means I meet & talk to others almost every time I go. That's vy important for my well being" – Janet C
"Our local park is host to a number of local events as well as being available for children to play in all year round" – James
"It is a place for EVERY person. It is a FREE space" – Dawn
"My grand daughters make friends. It brings me peace. My dogs love the freedom. They are indispensable to family life" – Janet F
"To me our local park is of interest to tourists and nature lovers. The RSPB was founded in the park 112 yrs ago. It is a delight to behold as it immediately lifts the spirits. Currently being managed by dedicated volunteers following severe cutbacks in local govt spending" – Robert
"Calm, lack of pollution, green space, lungs of city" – Janis
"Seeing families enjoying the outdoors.  Many do not have gardens" – Claire
"That nature is allowed to flourish, a beautiful green & open space in a concrete jungle"  –  Allison