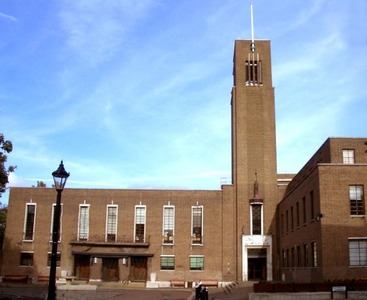 Oct 19th, 2016
Hornsey Town Hall – Reconsider the Decision
By Robin Priestley
A campaign was recently set up by the Hornsey Town Hall Appreciation Society in order to request Haringey council to reconsider the decision to dispose of Hornsey Town Hall to a buyer who wants to turn it into a luxury boutique hotel in the face of overwhelming public disapproval.
Why is this important?
Hornsey Town Hall is a Grade II* listed 1930s Art Deco building in the centre of Crouch End, North London. The Town Hall is badly in need of restoration and currently sits on Historic England's At Risk Register; the wider site includes disused land to the rear which is ripe for residential development. The cure for this situation is to dispose of the building and the land to the private sector, allow new housing to be built, and require that some proceeds from the sale of new residential property be used to refurbish the Town Hall to Historic England standards.
Extensive public consultation was undertaken to understand the local community's aspirations for the future use of the Town Hall post-disposition, and overwhelmingly local residents were in favour of its continued use as an Arts Centre and small-business incubator and creative space (currently houses 70+ tenants, supporting 130+ jobs).
Despite this, Haringey have chosen to consider as their favoured option a luxury boutique hotel under foreign ownership.
Local reaction has understandably been one of considerable dismay. Combining the loss of valuable jobs in the creative industries, the arrival of a hotel in a location with no obvious demand, and tax-haven domiciled ownership, public opinion is firmly opposed to Haringey's plan.
Last week it emerged that the rejected plan incorporated an Arts Centre, a small-business and creative incubator, and zero-carbon residential development – all of which the community supports. Public opinion has subsequently hardened.
This matter needs urgent reconsideration. Please sign to signal your support.
Hornsey Town Hall – Reconsider the decision