by Freya Campbell Oct 19th, 2016
It's the end of the working day. You're cold, you're tired, all you want to do is get home.
The train station is only marginally warmer than outside, but at least you've got a shot at getting a seat on the train. You look up to check the timings board, and your heart drops. DELAYED.
This is the reality for too many Scots. We've already paid an arm and a leg for our tickets, and too often we end up with a delayed that throws our whole day off. You can't go to grab a coffee, because the train might come. You can't take a seat, because the station's full to bursting. You're stuck waiting on aching feet, and still too cold for comfort.
This has been the experience of thousands of us  over the past year, and if nothing is done, we'll be stuck like this for the next 10 years.
Everyone at some point in their life gets stuck waiting for a delayed train, but for ScotRail passengers, this is an everyday occurrence. If your train hasn't been delayed, it's been cancelled, and even if it's on time, the chances of finding a seat are slim. Train journeys are never exactly fun, but ScotRail's poor service is making so many people's experiences downright miserable.
We know that one in five services were cancelled last month, and less than half of the trains on the Edinburgh-Glasgow route have arrived on time in the past year. This just isn't good enough.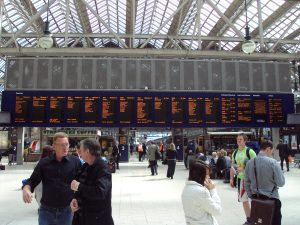 That's why 38 Degrees members have been campaigning for it to change. Together we're making the case that ScotRail have been given £13 million of public money each year to run our trains, yet the quality of their service is going backwards, not forwards. We believe it's time this changed, or the ScotRail bosses go. That's why over Over 19,000 of us have signed a petition calling for this, and spread the word by sharing through facebook and twitter.
And it's working.
A few 38 Degrees members have just met with Scottish Government's Transport Minister Humza Yousaf to talk about the future of ScotRail. David Taylor, a 38 Degrees member from Glasgow, who lost his apprenticeship because of ScotRail's delays, was one of the group who met with the Transport Minister. He said:
"I wanted to meet Humza Yousaf to find out why I had experienced so many cancellations that I lost my apprenticeship. It's not acceptable for anyone to lose their job because of a company's mistakes.
"However Humza Yousaf really listened to us, took down notes and seemed very understanding. He wanted to understand the problems we had been experiencing and he's said he will let us know his plan to improve the service soon."
This is big. It shows that people-power works. A meeting with Transport Minister is a massive step towards improving our trains once and for all. But it wouldn't have been possible if thousands of us hadn't taken the first step in adding our name to the people-powered petition calling for change.
There's still time to add your name to the petition:
https://speakout.38degrees.org.uk/campaigns/Scotrail-change-or-brake
38 Degrees is an entirely people-powered movement that relies on members like you in order to run, that means we're reliant on member's donations to run campaigns like this.
If you'd like to chip in so that we can keep up the fight in Scotland, you can by following the link below:
https://speakout.38degrees.org.uk/campaigns/1497