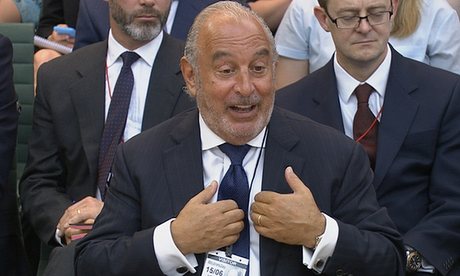 Oct 21st, 2016
Philip Green – never again?
By Alistair Rooms
This will make your Friday. Philip Green, the man who ran BHS into the ground and slashed his employees' pensions, looks set to lose his knighthood. Thousands of us signed the petition and emailed our MPs – and yesterday, the vote went through Parliament. It worked.
Yesterday, our country sent a clear message: bad bosses like Philip Green don't deserve to be honoured with a knighthood. But next time, we could make it more than just a message
Dodgy businesses have plenty of cash to spend on lobbyists and lawyers. Any single one of us, on our own, couldn't compete. But if thousands of us pool together just a fiver each, we could have enough to start a fighting fund against rogue businesses.
Please will you chip in a few pounds now to the people-powered fund to protect us from bad bosses? It only takes a minute, and you can do it on your phone.
Yesterday's vote went against Philip Green because of a huge public outcry – and 38 Degrees members like you were part of that.
If enough of us chip in to our fighting fund, together we could do so much more. The fighting fund could pay for:
Private investigations into dodgy businesses to uncover tax dodging and unfair employment practices

The technology to make it easy for millions of us to switch our energy, bank accounts and insurance – taking our business away from bad companies and helping the good ones
Experts to comb through bad businesses' accounts to uncover the truth about what they're really up to
Sophisticated advertising campaigns on Facebook and Google to make sure that when businesses act irresponsibly, all of their customers know about it
Lawyers who can defeat bad businesses in the courts – and protect people who lose everything because of a boss like Philip Green
The websites, leaflets and adverts to pile pressure on our MPs and the government to create proper legal protections for our pensions and our jobs
Businesses keep our country going. They employ millions of us, help make our country richer, and line the high streets we rely on. But the bad apples – bosses like Philip Green – do huge damage to people's lives.
Together, we've shown that people power can beat the bad apples. This time, it was Heinz Geyer from Barnet who started a petition on the 38 Degrees website to strip Philip Green of his knighthood. Last year Sam from Brighton started a petition on the 38 Degrees website because he heard bosses at Las Iguanas restaurants were pocketing their staff's tips.
Please will you chip in just a few pounds to kickstart a fighting fund to protect our pensions and jobs? It only takes a minute!