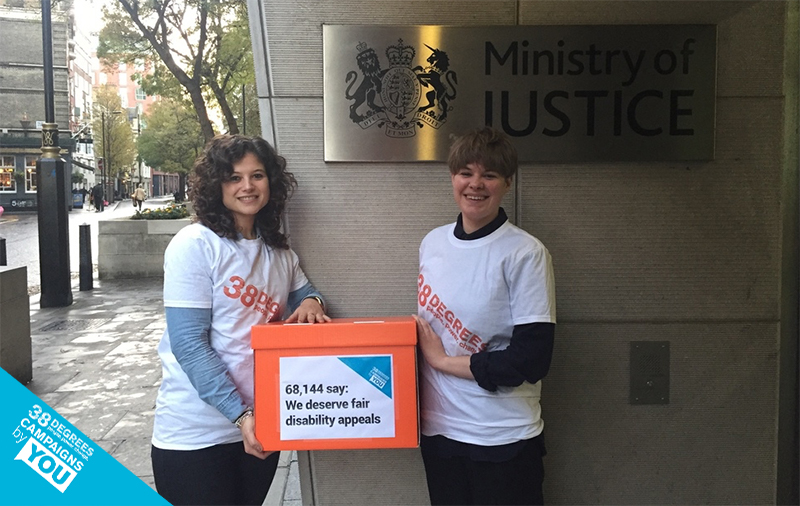 Nov 11th, 2016
Campaigning for fair disability assessments
By Luke Ilott
Yesterday, 38 Degrees members handed in their petition against government plans that would make it harder for disabled people to get the benefits they rely on.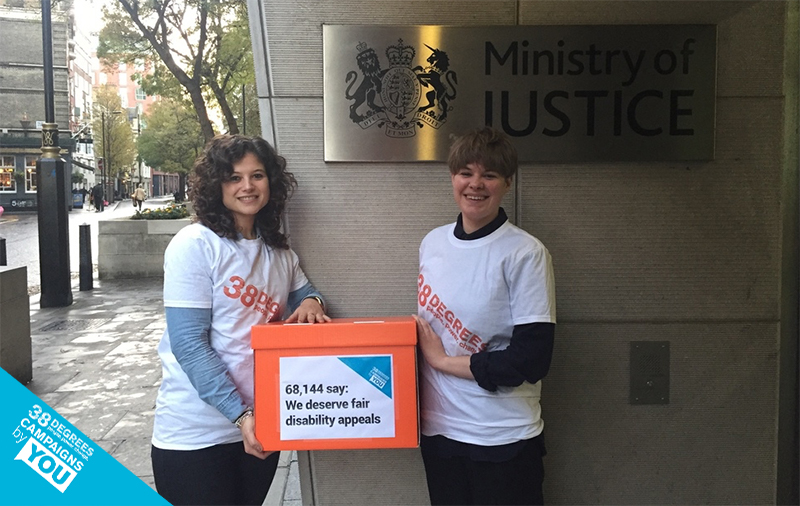 The Ministry of Justice wants to stop people who've been wrongly told they're well enough to work from appealing to doctors and judges in person. Instead, their cases could be decided in offices by people who aren't medical or legal experts.
Peter, the petition starter, knew from his own experience how important it is for judges and doctors to decide these cases. 68,144 of 38 Degrees members agreed and signed his petition opposing the plans.
When benefits are wrongly cut-off, people's lives are turned upside-down. It put Peter and his family through months of stress and uncertainty. An injury at work had left him with a lifelong disability meaning he can't work. A bad decision meant Peter couldn't get the benefits he needed to live, but he challenged it and won. His appeal saved him and his family from struggling to eat and heat their home.
Here's what Peter had to say: "For many disabled people, receiving benefits can be a matter of life or death. But these changes will prevent disabled people like me from challenging wrong decisions. We know that over 60% of people who appeal – win. That's a huge amount of people who could lose out. Dealing with a life-limiting condition can be lonely and difficult enough, without government putting up barriers to us accessing support we need and rightly deserve."
Peter's voice alone wouldn't be enough to stop these changes. But 68,144 38 Degrees members could. The petition was handed in as part of the consultation the Ministry of Justice is running on the proposals and 68,144 voices are difficult to ignore. The decision is yet to be made – but we'll keep you updated.