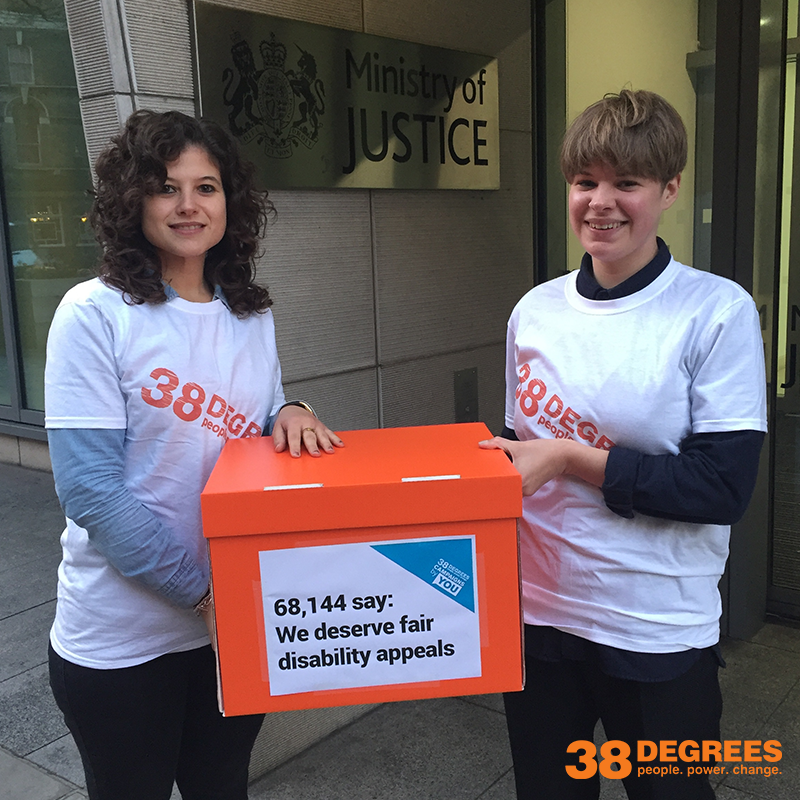 Nov 23rd, 2016
Disabled people deserve fair disability appeals
By charlotte
The government might be making it harder for disabled people to get the benefits they rely on. They want to stop people who've been wrongly told they're well enough to work from appealing to doctors and judges in person. [1] Instead, their cases could be decided in offices by people who aren't medical or legal experts.
Peter is so worried about these changes that he's started a 38 Degrees petition to stop them. An injury at work left him with a lifelong disability meaning he can't work. A bad decision meant he couldn't get the benefits he needed to live, but he challenged it and won. His appeal saved him and his family from struggling to eat and heat their home.
Peter thinks that meeting the judge and doctor deciding his case made all the difference. He was able to explain his situation and show them why he can't work. And he thinks that these new changes could mean people who are too ill to work won't get a fair hearing. [2] It could mean thousands could lose their benefits with disastrous consequences.
When benefits are wrongly cut-off, people's lives are turned upside-down. It put Peter and his family through months of stress and uncertainty. Their debts quickly spiralled out of control and their marriage was on the rocks. For Peter – and so many people with disabilities – benefits provide a lifeline they can't live without.
Here's what Peter thinks: "For many disabled people, receiving benefits can be a matter of life or death. But these changes will prevent disabled people like me from challenging wrong decisions. We know that over 60% of people who appeal – win. That's a huge amount of people who could lose out. Dealing with a life-limiting condition can be lonely and difficult enough, without government putting up barriers to us accessing support we need and rightly deserve."
Take a look at Peter's petition to find out more: 
https://you.38degrees.org.uk/petitions/dwp-changing-the-tribunal-process
NOTES:
[1] You can see the government consultations here:
Ministry of Justice: Transforming our justice system: panel composition in tribunals:
https://consult.justice.gov.uk/digital-communications/panel-composition-in-tribunals/
Ministry of Justice: Transforming our justice system: assisted digital strategy, online conviction and statutory fixed fines
https://consult.justice.gov.uk/digital-communications/transforming-our-justice-system-assisted-digital/
[2] The Guardian: Sick pay and work assessments to be reviewed, Jeremy Hunt reveals: https://www.theguardian.com/society/2016/oct/31/sick-pay-and-work-assessments-to-be-reviewed-jeremy-hunt-reveals
The Mirror: Tory claims on sick notes for long-term disabled people blasted as 'insult'
http://www.mirror.co.uk/news/uk-news/tory-claims-sick-notes-long-9161095