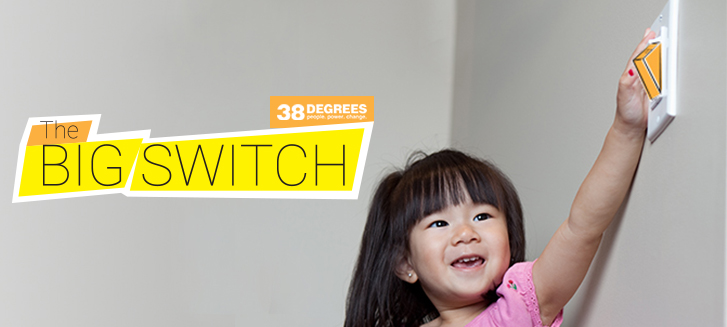 Nov 28th, 2016
Octopus Energy and iSupply: Who are they and why were they chosen?
By Becca McCarthy
The Big Deal has negotiated a cheap, standard deal with Octopus Energy – a small company with a great customer service record, who're also the largest investor in solar farms in the UK. This deal could save you up to £232.50 a year.
The Big Deal has also negotiated a clean deal with Octopus Energy – it's the cheapest clean energy deal on the market, which could save you £203.50 and is from 100% renewable energy sources.
They've also negotiated a prepayment metre deal with iSupply – the first PPM deal negotiated by a collective switch.
These deals are based on 38 Degrees' members top priorities – read more below:
What were 38 Degrees' members top priorities in this switch (and how were they chosen)?
The top priorities were chosen by 38 Degrees members in a survey which asked "what are you looking for in a gas and electricity deal?". You can see the results here: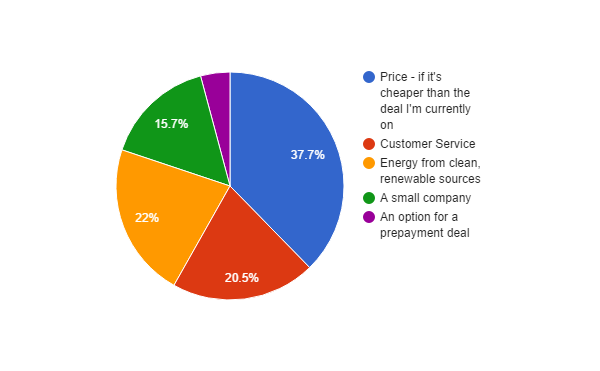 From this, the top three priorities were:
Price
Clean energy
Customer service
It was also shown that roughly 18% of respondents are on a prepayment deal, which is why iSupply have provided a deal for this
The Big Deal explain why they chose Octopus Energy based on 38 Degrees' members priorities:
Launched in 2015 Octopus Energy are a smaller energy company determinedly taking a totally different approach to the Big Six. Their deals do not have exit fees. They believe that customers should be with them because they want to be with them not because they would have to pay to leave.
The service is great – Octopus Energy is rated 5/5 stars on the independent reviews site, Trustpilot, with awesome email support 7 days a week (usually responding within the hour – but please forgive them if they're a little bit slower when the 38 Degrees onslaught hits – it'll still be pretty good). You can even talk to them on Facebook Messenger.
At Big Deal, we have long criticised companies who roll customers on to a dramatically more expensive deal when their deal expires. Often those deals are more than £250 more expensive than the deal customers originally signed up to. Octopus have taken a stand against these 'tease and squeeze' tactics – you can see the work they did with the BBC here: http://www.bbc.co.uk/news/business-37318534. At the time of writing, their default tariff is within £50 of their best offer.
But perhaps most importantly Octopus is backed by Octopus Investments, the UK's largest investor in solar farms, with over £1.5bn invested to date. Octopus funded farms generate 40% of the UK's large scale solar – enough to power over a quarter of a million homes.
Octopus is a British business founded, run and based entirely in the UK.  The founders and employees of the business are all UK based, and all the revenue is booked here – the company is entirely onshore. They are a UK company employing over 500 workers, and are the leading backer of UK small companies.
What is the relationship between Octopus Energy and Octopus Investments?
Octopus Energy is one of the many startups backed by Octopus Investments. Octopus Energy is majority owned by Octopus Investments, but all its staff own shares. Octopus buys renewable energy from the solar farms which Octopus invested in.
Octopus Investments manages money in a 'tax-efficient' way? What does that mean? Is this tax-dodging?
Octopus helps investors make use of tax incentives which are designed by government to encourage people to do good things. There's a big difference between tax evasion and tax incentives. Octopus Investments often works with the latter but not the former.
The very point of tax incentives is to make people (investors) change behaviour and invest in these rather than other investments.  The two main programmes are Enterprise Investment Scheme (EIS) and Venture Capital Trusts (VCTs), designed to support early stage and risky companies respectively.
For example, VCTs are "tax efficient" because the government provides tax relief to incentivise people to invest their money in innovative smaller companies. These tax incentives are specifically provided by the government to help create jobs and drive economic growth. So Octopus absolutely uses these to help drive more investment into everything from renewable energy generation to startups and small companies.
It's worth remembering that these tax incentives are not just "giveaways" – they exist because of the greater risks involved with investing in smaller companies.
EIS and VCT schemes have allowed numerous small start ups to get off the ground and grow into companies widely respected and loved. Examples of early stage start ups that Octopus has invested in include:
Graze
Swiftkey
Secret Escapes
Tails.com
Eve Mattresses
Lovefilm
Tell me more about these schemes
VCTs were announced in 1995 and EIS in 1994 by the then Tory government then continued under the entirety of the Labour government, and then through the LibDem/Tory coalition and under this government – they're not controversial and they really deliver for the UK economy.
Does Octopus Investments pay tax in the UK?
Yes. Octopus is a British business founded, run and based entirely in the UK.  The founders and employees of the business are all UK based, and all their revenue is booked here – the company is entirely onshore. They are a UK company employing over 500 workers, and the leading backer of UK small companies and pay UK corporation tax.
What kind of things does Octopus Investments invest in? Besides renewable energy, you also invest in private healthcare. The NHS is hugely important to 38 Degrees members – how does your healthcare investment affect it?
The majority of Octopus's involvement in healthcare is building GP surgeries for the NHS. Octopus have specific expertise in designing surgeries that doctors and patients love. Beyond that, Octopus have funded the building of outstanding care homes and a very small number of hospitals which have been taken over by private companies. Octopus is proud to have rescued a leading children's special schools from closure, much to the relief of the families whose children rely upon it.
Are Octopus a 100% renewable company?
Octopus is passionate about renewables. Backed by the UK's leading investor in renewables, Octopus delivers 100% renewable tariffs at prices that are better than most suppliers' standard tariffs. Octopus's standard tariff is currently 55% renewable, and aims to be at least 50% renewable (compared to a UK average of about 25%), even as they bring on board tens of thousands of mainstream consumers.
Octopus-funded solar farms generate 40% of the UK's large scale solar – enough to power over a quarter of a million homes.
Does Octopus Energy actually incentivise the generation of additional green energy? Or does it just purchase clean energy that has already been generated through REGOs?
Octopus has direct agreements with renewable energy generators across the country, paying them for the energy they generate. For example, the company has PPAs (purchase power agreements) in place with Molland Solar Farm in Devon, and many others like it. Octopus also has PPAs with anaerobic digestion plants – which complement the solar production by producing renewable energy from food waste and other organic matter 24/7. They are 100% vegan.
Against a backdrop of government cuts, that support helps keep renewable generation going in Britain.
Do you do anything else to help Britain's transition to a low carbon future?
Octopus Energy helps that transition by paying renewable energy generators to deliver clean energy for customers who want to play their part. And they offer a fantastic customer experience while they're at it! Octopus Investments goes further and actually invests in the solar farms that provide power to companies like Octopus Energy. In that sense, clean energy is in the company's DNA.
Octopus also believe in helping reduce the amount of energy being used – which you probably wouldn't expect from most energy companies. They have invested in Reactive Technologies – a demand response, green technology startup – to help supermarkets and other large users reduce the amount of energy they use.
Decisions like that underline the commitment of Octopus to an energy industry that is smart, fair, affordable and sustainable. We feel they are an ideal partner for 38 Degrees.
The Big Deal explain why they chose iSupplyEnergy for a prepayment metre deal based on 38 Degrees' member priorities:
People who pay by key or card have been exploited by the Big Six more than any other customer. No other collective switch has ever managed to get a unique deal for prepayment meter customers. But 38 Degrees made clear that this was a priority for their members.
So we're extremely proud to have managed to deliver a great exclusive PPM deal for 38 Degrees members that will save the average Big Six prepayment customer £148 a year.
It's from established supplier iSupplyEnergy a mid-sized British-owned energy supplier based in Bournemouth. Operating since 2012 iSupply have given 38 Degrees members on prepayment meters a deal that is under a £1000 a year. A saving of £148 on the average bill a prepayment customer pays with the Big Six. And the deal comes with out any exit fees whatsoever.
How does this deal compare to other prepayment deals out there?
The top 5 prepayment deals in the country are set out below. Our deal from iSupply is ranked third and just £17 off the cheapest deal in the market. But the deals above it in the market are not ones we'd recommend any customer should take.
The cheapest deal is from E Energy who is under investigation from regulator Ofgem for potentially misleading its customers. See BBC report here: http://www.bbc.co.uk/news/business-37517142
Iresa Energy who has the second cheapest prepayment deal and is £8 cheaper than our deal with iSupply has only been in existence for a few months having launched in August and we are not confident that they can deliver for large numbers of 38 Degrees customers. The next best deal after iSupply's prepayment deal is £31 more expensive.
38 Degrees members have made clear that they expect good customer service as well as a great price. We did not see any reason why that should not apply to prepayment meter customers.
Top five cheapest prepayment tariffs on the market – cost per year for average consumer
1) E Energy – £982
2) Iresa Energy – £991
3) Our deal – iSupply – £999
4) Economy Energy – £1030
5) EDF – £1035
Average Big Six tariff £1147
Saving when moving to iSupply's special deal: £148
(As of 22 November 2016)
Our great deal with iSupply does not have any exit fees.
What about iSupplyEnergy's customer service?
We are confident iSupply can comfortably take the amount of customers we are bringing them. After four years in operation they are ranked higher than all the Big Six in Which?'s most recent energy supplier survey and have an average score of 7.2 on Trustpilot. iSupply's call centres are all UK based in Dorset.
What about renewables?
Although iSupply are not a green energy provider, they are a Voluntary Feed-In Tariff supplier. This means they make regular payments to householders, communities and businesses that generate their own renewable electricity such as via solar panels or wind turbines.
Does iSupplyEnergy pay tax in the UK?
iSupplyEnergy is a British business founded, run and based entirely in the UK.  The founders and employees of the business are all UK based, and all their revenue is booked here – the company is entirely onshore. They are a UK company employing over 175 workers.