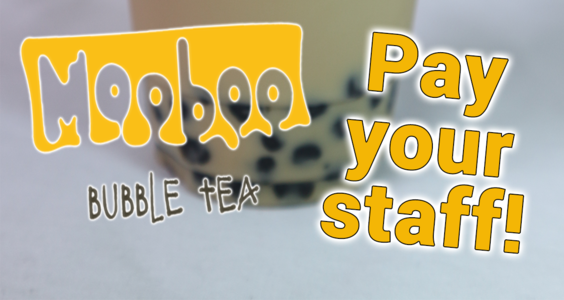 Feb 21st, 2017
Mooboo, Pay Your Staff!
By [email protected]
It has been revealed that a chain of cafes, called Mooboo Bubble Tea, are making new staff work a 40-hour trial shift, with no pay and no guarantee of a job. So, an organisation that fights for workers rights called betterthanzero have set-up a 38 Degrees petition demanding MooBoo pay staff for any hours they work. You can see screenshots of e-mails from the managers at Mooboo at the bottom of this post.
Mooboo are a small company and they're keen to grow – so any bad publicity will hit them hard. In fact, they're so afraid of bad publicity that they are deleting any mention of their trail shift policy that gets put on social media.
But, a huge petition would force this story into mainstream newspapers, meaning they won't be able to hide from the criticism any longer. It could be enough to get them to scrap this unfair and outrageous policy.
If you believe everyone should be paid for the work they do, please sign the petition to tell Mooboo to pay their staff. Click here to sign.
Here are leaked e-mails from Mooboo managers that show that staff are required to work an unpaid, 40-hour shift without guarantee of a job:
So what do you say? Will you add your name to the petition for Mooboo to pay their staff fairly for every hour they work? Click here to sign.