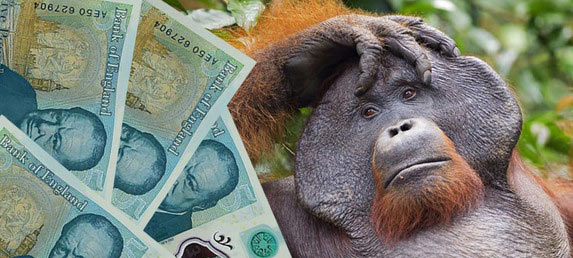 Mar 31st, 2017
Bank of England – Don't use palm oil in banknotes
By Rachel Whalley
Farming palm oil has destroyed our rainforests and is pushing endangered species – like orangutans – towards extinction. Right now, the Bank of England are considering using Palm oil to hold together Britain's new banknotes.
They only announced the plans last week, and nothing's been decided yet. A huge fuss right now, before they even properly start discussing it, could get them to rule out palm oil altogether! So 38 Degrees member Atul has started a petition calling on them to use one of many alternatives, that are less damaging to our planet. 
We know the bank will listen – because we've been here before. When they were caught using animal fat in the new fivers, it was thanks to public pressure that they looked for an alternative. If thousands of us get behind the petition today, we'll be able to nip this dangerous idea in the bud.
If you agree that the money in our pockets shouldn't be created at the expense of our planet, can you sign Atul's petition now? It takes less than a minute.
Here's what some 38 Degrees members signing the petition have to say:
"I am concerned about the deforestation caused by the use of palm oil. We know we are already causing harm by the amount of palm oil which is being used, why make it worse?" – Deborah
"Palm oil, is toxic to animals and is destroying the planet. Who on earth thought that this was a good ideal?" – Kim
"Having seen first hand the amount of clearing that is being done to plant the oil palms, I cannot believe this is even being considered." – Arthur
In the huge battle to make sure our environment is saved, low hanging fruit like this – an easy fix that just requires enough public pressure – are a step in the right direction to protect our planet.
So let's tell the Bank of England not to fund the destruction of the rainforest – especially when there are better options out there.