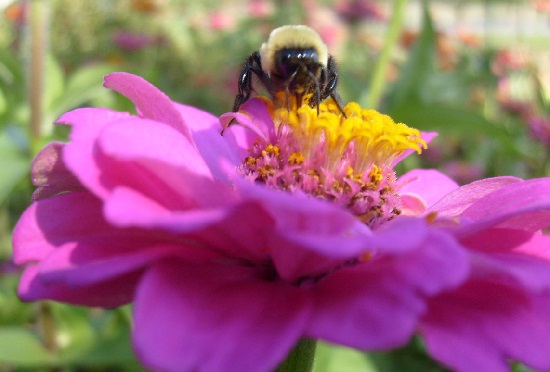 Apr 28th, 2017
Breaking: Bee-killing pesticides will be kept off our fields this summer!
By Megan Bentall
Breaking: Bee-killing pesticides will be kept off our fields this summer! Environment Minister Andrea Leadsom has listened to thousands of us and decided to keep the ban on these dangerous chemicals.  It's an unbee-lievable victory for our bees.
And it's thanks to hundreds of thousands of us standing up for bees. Because bees might not have a voice, but we certainly do.
That's the beauty of the power we all have as 38 Degrees members. By ourselves it may seem impossible to stop big chemical companies and their lobbyists who want to put these bee-killing chemicals back on UK fields. But when we come together to take little actions – it all adds up.
Here's everything we've already done together to save our bees this Spring:
Over 307,000 of us signed a huge petition telling Andrea Leadsom to keep the ban in place
81,000 of us got in touch with our MPs, asking them to tell Andrea Leadsom to make the right decision
We sent a briefing to all MPs, showing them the science against these dangerous pesticides – and included a packet of bee-friendly seeds and a pot of British honey for good measure!
38 Degrees members have planted 60,000 packets of bee-friendly seeds this Spring – enough to cover the city of Liverpool with flowers three times over.
The fight isn't over – as we leave the EU the government could decide to scrap the ban on bee-killing pesticides completely, putting our busy friends in danger all over again. But for right now let's just celebrate this amazing victory before gearing up for the next big fight.