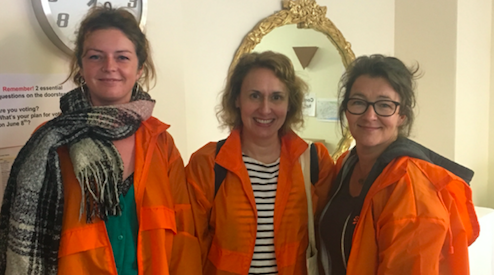 May 31st, 2017
Members encourage people to use their vote on June 8th!
By Usman
Even though the bank holiday weekend was time for some extra rest, 38 Degrees members remained as busy as usual. They were out and about encouraging as many people as possible get out and vote in the upcoming election on June 8th.
The team was strengthened over the weekend with 414 more volunteers signing up, wanting to add to the 20,000 doors that have already been knocked on and the tens of thousands of conversations already had with constituents over the phones. Targets for the number of conversations are being smashed as the team are clocking thousands per day!
The pop-up election offices set up by members are growing hubs of activity, and they're getting more and more busy as June 8th approaches. They're doing all sorts, from inputting data, to route planning (for the door knockers) and even snack making. It looks as if the members are talking to close to – if not more – people on the ground than each of the major political parties!
This mammoth effort from 38 Degrees members is truly inspiring. Well done guys!
Remember, there are a bunch of ways you can still get involved:
You can check out the candidates for your area, and send them your questions, from the 38 Degrees election website: https://link.38degrees.org.uk/election-38degrees
You can keep tabs on how political parties are targeting you with secretive online adverts – by joining thousands of people downloading the 'Who Targets Me?' app. The app is quick and simple to download onto your computer. It automatically tracks which political parties are trying to get your vote through advertising, helping build up a national picture of what the different parties are up to."Dark ads" could be a real threat to democracy, the latest and most sinister form of political spin – this is an ingenious, people-powered way for us to shed some light on them:
https://link.38degrees.org.uk/who-targets-me
You can help expose the claims different candidates are making in their election leaflets. Candidates can get away with making all kinds of claims in their election leaflets, because no official records are kept. But we can upload pictures of the election leaflets which land on our doorsteps, so everyone can see them, forever. This makes it far harder to get away with false claims and broken promises. Check out leaflets from your area, and upload your own here: https://link.38degrees.org.uk/election-leaflet