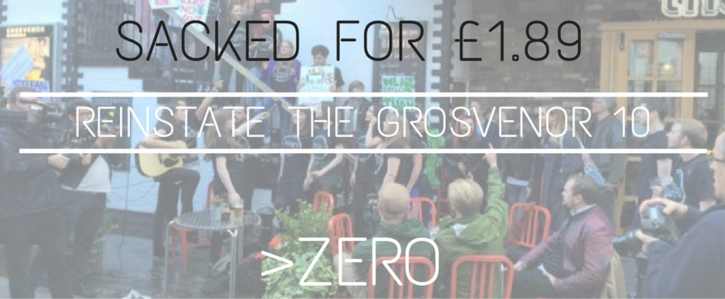 Sep 14th, 2017
Reinstate the Grosvenor 10
By Moon Saker
Ten people working in a popular Scottish cinema have been sacked over a £1.89 mistake.
G1, the largest hospitality company in Scotland, who made over £66.6 million last year, sacked minimum wage staff for slightly misusing a staff food discount. So Better Than Zero, who campaign in Scotland for fair treatment at work, have started a 38 Degrees campaign demanding the staff are given their jobs back.
With news stories being published and a protest outside the cinema earlier this week, the pressure on G1 is building. A huge petition signed by thousands of us will show them that they can't treat staff this way and get away with it. The larger our petition is, the more they'll realise that they are turning off potential customers and losing money.
If you think that nobody deserves to be sacked over a £1.89 mistake, please sign the petition today. It only takes 30 seconds.
As one member of staff puts it:
"We get paid minimum wage which is difficult to manage on, but we've always had a good atmosphere at work with everyone getting along. We've covered shifts at short notice, regularly worked 12 hours, often forsaken breaks, and made the company a lot of money by upselling. Then they do this to us. It's a complete kick in the teeth for the sake of £1.89."
The only mistake staff made was to overuse a food discount for their workmates. All staff are entitled to a 50% food discount, but not every member of the team had access to the till to claim money back. So workers have to expense each others food.  With a system so complicated, it was hardly surprising that people occasionally made a mistake.
We know a big petition can work. Earlier this year, when Better Than Zero noticed a cafe chain forcing people to work a 40 hour unpaid trail shift, they started a campaign. Thousands of 38 Degrees members got involved, signing petitions and shaming the company on social media. And the unfair shifts were dropped within a couple of weeks.
If you think that large companies shouldn't able to fire staff for doing so little wrong, please sign the petition.