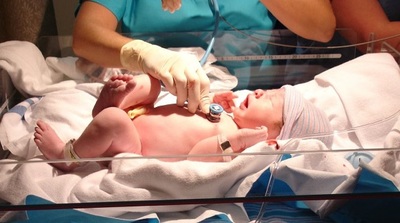 Nov 8th, 2017
NHS: Open letter to your MP
By Becca McCarthy
Right now, Chancellor Philip Hammond is deciding what the government should spend money on in the year ahead. He'll announce his Budget in three weeks. [1] If we're going to make sure the NHS gets the funding it needs, we need to act fast.
Here's the plan: if thousands of us tell our MPs that we expect the NHS to get more funding at the Budget, word will filter up quickly to Philip Hammond. [2] The pressure from his colleagues could convince him to put the NHS at the top of his list.
Will you sign the open letter to your MP and ask them to demand Philip Hammond gives the NHS the money it needs?
Our NHS has been starved of cash for years, which means our hospitals and GP surgeries have been stretched to breaking point. [3] That's why 38 Degrees members, like you, have been demanding the government funds our NHS properly. [4] This week, our fears have been echoed by an influential think tank. A hard-hitting report says what we've known all along: our NHS has suffered because of a lack of money. [5]
Right now, Philip Hammond's office will be busy fielding calls from different government departments who all want a slice of the Budget. [6] But if our MPs start pressuring him at every chance they get, it could convince him to make the NHS his top priority for more funding.
NOTES:
[1] Sky News: Chancellor Philip Hammond reveals date of first autumn Budget:
http://news.sky.com/story/chancellor-philip-hammond-sets-date-of-2017-autumn-budget-11032092
[2] Right now, Philip Hammond's facing some hard decisions about how to allocate government money for the next year:
BBC: Budget: Hammond faces spending dilemma, says IFS:
http://www.bbc.co.uk/news/business-41798101
City AM: As the Autumn Budget approaches, Philip Hammond must find room to manoeuvre:
http://www.cityam.com/274784/autumn-budget-approaches-philip-hammond-must-find-room
FT: Jeremy Hunt calls for more NHS money ahead of autumn Budget (behind a paywall):
https://www.ft.com/content/31b060ea-bc9b-11e7-b8a3-38a6e068f464
[3] Sky News: NHS in 'toughest ever financial situation', says outgoing trust boss:
http://news.sky.com/story/nhs-in-toughest-ever-financial-situation-says-outgoing-trust-boss-11101607
The Guardian: NHS straining at the seams year before 70th birthday, finds regulator:
https://www.theguardian.com/society/2017/oct/10/nhs-straining-at-seams-70th-birthday-says-regulator-cqc
[4] 38 Degrees: What we've achieved so far this year on our NHS:
https://home.38degrees.org.uk/2017/08/09/ournhsthisyear/
[5] The Mirror: NHS trapped in 'tightest funding period' for six decades, reveals Institute for Fiscal Studies ahead of Budget:
http://www.mirror.co.uk/news/uk-news/nhs-trapped-tightest-finding-period-11434435
Institute for Fiscal Studies report: Autumn 2017 Budget: options for easing the squeeze:
https://www.ifs.org.uk/publications/10010
[6] See note 2