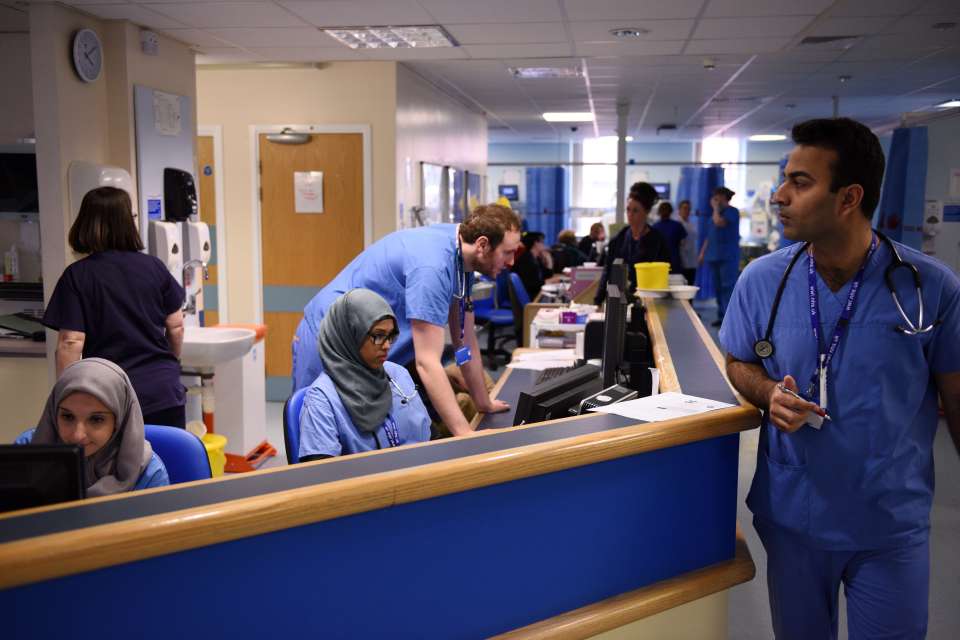 Jan 16th, 2018
NHS Winter Crisis: Petition
By Becca McCarthy
It's worse than we thought. New polling, paid for by 38 Degrees members, shows that nearly four million people in England have been left waiting for care because of the NHS crisis. [1] That's millions of us who've had operations or appointments cancelled, or have had to wait hours for treatment in an A&E.
The government says this is happening because it's winter – that they're "sorry", but it's not their fault. [2] That's not good enough. The NHS is at breaking point because the government refuses to give it the money it needs. [3]
The explosive findings are all over the headlines. [4] Now's the time to turn up the pressure on the government. A huge petition, signed by hundreds of thousands of us, will send them a clear signal: the public expects hospitals to get the money they need.
Over 100,000 38 Degrees members have already signed the petition to demand the government funds our NHS properly. Please will you add your name too?
The NHS was founded to provide care for all of us. But right now, people are suffering. A little girl had her life-saving surgery to close a hole in her heart cancelled five times before getting treatment. Her mum blames "government cuts for causing the delays". [5] And last week an elderly woman died after her local ambulance service took four hours to turn up to her home because they were so overstretched. [6]
The government is coming under fire for their handling of the crisis. [7] Their spin teams will be working overtime to dodge the blame. If we want them to give money to help the NHS through this crisis, we need to keep the pressure up.
PS: This is worrying news but it shouldn't stop any of us from asking for the care we need if it's an emergency. Doctors and nurses are still saving lives every day. If you or a family member is unwell or has an emergency you can find out what to do here:
https://www.nhs.uk/NHSEngland/AboutNHSservices/Emergencyandurgentcareservices/Pages/AE.aspx
Notes:
[1] The Daily Mail: NHS winter pressures affecting 9% of people in England, survey finds:
http://www.dailymail.co.uk/wires/pa/article-5254169/NHS-winter-pressures-affecting-9-people-England-survey-finds.html
[2] Sky News: May defends handling of NHS amid winter crisis: 'Nothing is perfect':
https://news.sky.com/story/may-defends-handling-of-nhs-amid-winter-crisis-in-health-service-11199048
[3] The Guardian: Hospital bosses tell Jeremy Hunt to spend now to rescue the NHS:
https://www.theguardian.com/society/2018/jan/11/hospital-bosses-urge-jeremy-hunt-spend-now-to-rescue-nhs
[4] The Daily mail: NHS winter pressures affecting 9% of people in England, survey finds:
http://www.dailymail.co.uk/wires/pa/article-5254169/NHS-winter-pressures-affecting-9-people-England-survey-finds.html
Evening Express: NHS winter pressures affecting 9% of people in England, survey finds:
https://www.eveningexpress.co.uk/news/uk/nhs-winter-pressures-affecting-9-of-people-in-england-survey-finds/
[5] Metro: Baby with hole in her heart had life-saving operation cancelled five times:
http://metro.co.uk/2018/01/07/baby-hole-heart-life-saving-operation-cancelled-five-times-7210212/
[6] The Telegraph: Long ambulance waits double in a week as NHS winter crisis bites:
http://www.telegraph.co.uk/news/2018/01/04/long-ambulance-waits-double-week-nhs-winter-crisis-bites/
The Guardian: Essex woman dies after waiting nearly four hours for ambulance:
https://www.theguardian.com/uk-news/2018/jan/05/essex-woman-dies-after-waiting-nearly-four-hours-for-ambulance
[7] The Guardian: Jeremy Hunt admits NHS needs more money after facing calls to quit:
https://www.theguardian.com/politics/2018/jan/10/jeremy-corbyn-theresa-may-pmqs-nhs-winter-crisis