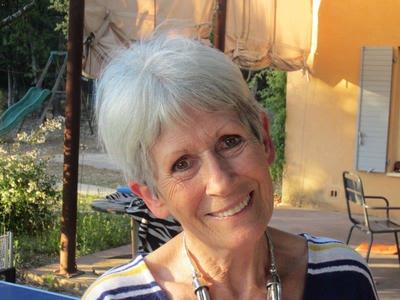 Jan 25th, 2018
Asbestos in schools
By Becca McCarthy
In schools across the country, children and teachers are at risk of exposure to a deadly substance, asbestos. The problem is so bad that the government has issued safety warnings after a study found asbestos in 83% of schools, with 19% failing to safely manage the risk but little action has been taken. [1]
Lucie, has set up a petition calling on the government to remove all asbestos from schools. [2] She set up the campaign after her mum Sue, a former teacher, was told that she had cancer due to asbestos exposure.
Sue, should have been celebrating her 70th birthday today, but, sadly last June she lost her battle with cancer and passed away.
School budgets are being set by the government right now, so Lucie needs to raise awareness of the issue right away. That's where we come in. A huge petition calling for asbestos removal will mean that the Department of Education will have to consider this when they set their budgets and make sure that the work starts in schools as early as this summer.
If you think all schools should be free of asbestos, then please sign the petition here. It'll take less than a minute:
Sue taught over 800 children over a 30 year teaching career but the schools she taught in contained asbestos. Before her Mum died, Lucie made her a promise; that she would do her best to make sure no-one else has to suffer like she did.
"My Mum was horrified by her diagnosis. She was angry that she wasn't told about the asbestos in the schools she taught in so she wasn't able to protect herself. But what worried her most of all was the impact of asbestos on all the children that she taught".
-Lucie
The government thinks that asbestos in our schools is a problem that's "too big too handle". [3] But that's no excuse. If enough of us get behind Lucie's campaign, we can make sure that they have to address this threat to school children and teachers.
It can seem a daunting task trying to get a government department to listen. But, when we act together, we can make change happen. Just last week 38 Degrees members in Scotland convinced the Scottish government to change their policies and make tax fairer. When we come together we can make governments rethink their budgets and provide finances for issues that we care about. [4]
NOTES:
[1] TES: Teachers at risk of asbestos exposure in one in five schools:
https://www.tes.com/news/school-news/breaking-news/teachers-risk-asbestos-exposure-one-five-schools
[2] 38 Degrees: Protect our children and teachers from asbestos exposure at school:
https://you.38degrees.org.uk/petitions/protect-our-children-and-teachers-from-asbestos-exposure-in-schools
[3] Gov.uk: All-Party Parliamentary Group on Occupational Health and Safety: Asbestos in schools: The need for action:
https://www.ucu.org.uk/media/4999/Asbestos-in-schools—all-party-parliamentary-report-Feb-2012/pdf/asbestos_in_schools_booklet_lo_res.pdf
[4] 38 Degrees: Breaking News: Scottish Tax:
https://home.38degrees.org.uk/2017/12/19/27631/