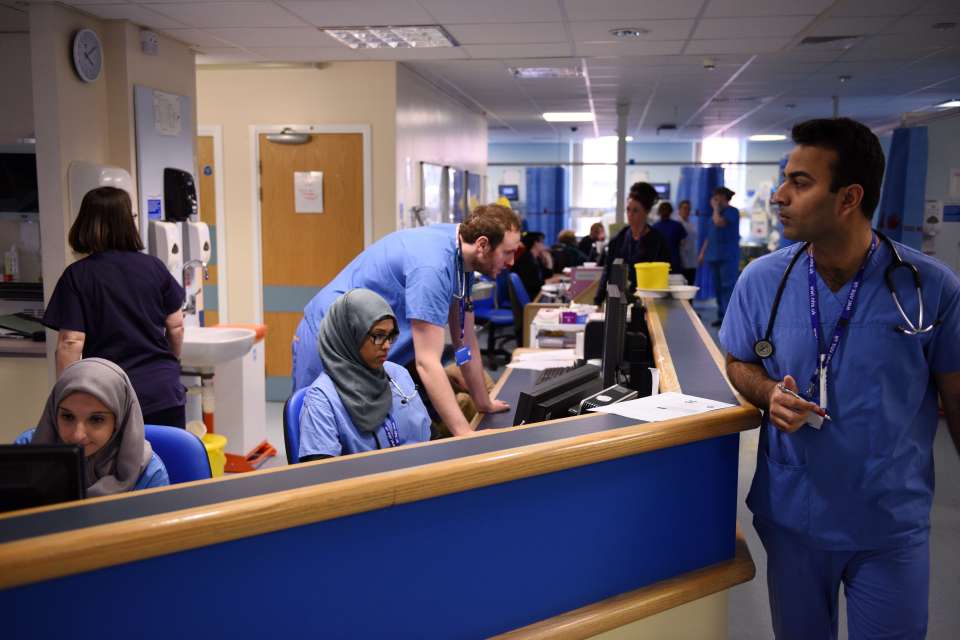 Jan 29th, 2018
NHS Winter Crisis: an update!
By 38 Degrees team
My name's Jess, and I work in the 38 Degrees staff team.
I wanted to take a minute to share all the incredible work that we have managed to do together, to demand the government fix the crisis in our NHS.
It's not over. But when I look back on what we've been able to achieve together in just a few weeks, I'm more determined than ever:
When the NHS crisis first hit the headlines in January we jumped into action. Over 175,000 of us signed the petition calling on the government to provide emergency funding to the NHS so it could cope. [1]
The government tried to offer empty apologies. [2] But 'sorry' doesn't fund our hospitals. So thousands of us chipped in to kickstart a massive advertising campaign, to pin the responsibility for the winter crisis on government decisions.
Donations from 38 Degrees-ers like you paid for leaflets to be dropped on the doorstep of every voter in key locations across the country. And we hired ad vans to circle around town centres to help us get the message out. [3]
Thousands of us Tweeted, emailed and left Facebook messages for our local MPs to demand they speak up for more NHS funding.
Together, 38 Degrees members paid for polling to show politicians that voters would desert them if they didn't act to protect the NHS. The results were splashed across the papers. And to be extra sure they saw it, we sent MPs copies straight to their inboxes. [4]
That's not all. On Tuesday morning, Theresa May's top ministers met in Downing Street. So thousands of us flooded the inboxes of every one of her top team the night before, urging them to speak out for the NHS. They certainly talked about it – there was even a row to prove it! [5]
What we're doing together is working. Every day I'm fielding calls, Tweets and emails from defensive MPs who are rattled because of our pressure. Some have even written to their local paper and made public statements. [6] There are now splits in Theresa May's top team.
There's still more work to be done. Thousands of patients have had their operations cancelled. People are still being left waiting in ambulances outside A&Es. [7]
Over the next few weeks, we'll continue to ramp up the pressure. The NHS has always been there to care for us – and together, we'll fight so it stays that way.
But for now, I hope you're proud of everything we've done. I know I am!
NOTES:
[1] 38 Degrees: Stop the winter crisis in our NHS:
https://speakout.38degrees.org.uk/campaigns/nhs-winter-crisis-2018
The Telegraph: NHS hospitals ordered to cancel all routine operations in January as flu spike and bed shortages lead to A&E crisis:
http://www.telegraph.co.uk/news/2018/01/02/nhs-hospitals-ordered-cancel-routine-operations-january/
BBC: Hospitals to delay non-urgent operations:
http://www.bbc.co.uk/news/health-42541412
[2] The Independent: NHS crisis: Jeremy Hunt apologises to patients as thousands of non-urgent operations postponed:
http://www.independent.co.uk/news/uk/politics/jeremy-hunt-apology-nhs-crisis-patients-non-urgent-operations-care-delayed-latest-a8139556.html
[3] 38 Degrees: NHS ad campaign:
https://home.38degrees.org.uk/2018/01/17/nhs-local-campaigning/
Ilkestone Advertiser: Campaign challenges Erewash MP over NHS winter crisis funding support:
https://www.ilkestonadvertiser.co.uk/news/campaign-challenges-erewash-mp-over-nhs-winter-crisis-funding-support-1-8958937
Maidenhead Advertiser: Ad van targets Prime Minister's handling of NHS winter crisis:
https://www.maidenhead-advertiser.co.uk/gallery/maidenhead/126210/ad-van-targets-prime-minister-s-handling-of-nhs-winter-crisis.html
[4] Here's a shot of the poll in The Guardian:

The Guardian: NHS crisis is main worry for Conservative voters, poll suggests:
https://www.theguardian.com/society/2018/jan/22/nhs-crisis-is-main-worry-for-conservative-voters-poll-suggests
38 Degrees members also paid for another poll, asking people if they were affected by the NHS crisis:
The Daily Mail: NHS winter pressures affecting 9% of people in England, survey finds:
http://www.dailymail.co.uk/wires/pa/article-5254169/NHS-winter-pressures-affecting-9-people-England-survey-finds.html
[5] The Telegraph: Theresa May faces Cabinet demands to pledge £100m extra per week to NHS after Brexit: (paywall)
http://www.telegraph.co.uk/politics/2018/01/21/theresa-may-faces-cabinet-demands-pledge-100m-extra-per-week/
The Sun: Boris Johnson's cry for NHS cash was a shining moment as Theresa May bumbles through the dark:
https://www.thesun.co.uk/news/5410522/boris-johnson-nhs-theresa-may-leader-tory-party/
[6] Maggie Throup MP: STATEMENT: NHS Winter Pressures:
https://www.maggiethroup.com/news/statement-nhs-winter-pressures
Crawley 24 News: Crawley MP welcomes ad attack over NHS funding so he can 'set the record straight of record high funding levels':
http://www.crawleynews24.co.uk/crawley-mp-welcomes-ad-attack-nhs-funding-can-set-record-straight-record-high-funding-levels/
[7] The Guardian: NHS hospitals still in grip of winter crisis, figures show:
https://www.theguardian.com/society/2018/jan/25/hospitals-still-in-grip-of-winter-crisis-nhs-england-figures-show