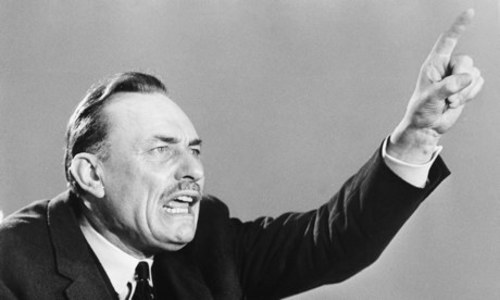 Feb 7th, 2018
No to Enoch Powell Blue Plaque
By Becca McCarthy
Wolverhampton could be about to celebrate a racist by putting up a blue plaque for Enoch Powell – the politician infamous for his anti-immigrant, racist views. [1]
History shouldn't be erased. But blue plaques are there to celebrate great British heroes and pioneers. An ex-MP who once asked "what's wrong with racism?" certainly isn't one of them. [2]
Right now, a group of historians are deciding whether to okay plans for the plaque to be put up. So Freddie, who's from Wolverhampton, has set up a petition telling them not to put up the plaque in his city. [3] The historians won't be used to facing lots of public pressure. So if thousands of us sign Freddie's petition it could force them to listen.
If you think we shouldn't be celebrating racist views in Wolverhampton, sign the petition now:
In his career as an MP, Enoch Powell stirred up racial discrimination and hatred. [4] His infamous Rivers of Blood speech went down in history as one of the most racist speeches ever made by a British politician. It's important we can talk about it, but that doesn't mean we should celebrate it.
Together, we can make sure the historians know that we want plaques to be reserved for people who deserve celebration. Great British people like William Shakespeare, Emmeline Pankhurst or Sir Isaac Newton. People who share our national values, who fought against racism and fascism.
The plaque is already making national headlines. [5] All that is missing is a huge wave of public pressure, telling the historians that the the plans to put up the plaque should be stopped. If enough of us sign the petition – they'll know the public stands against the plans.
NOTES:
[1] The Birmingham Mail: Enoch Powell could get a blue plaque in Wolverhampton:
https://www.birminghammail.co.uk/news/enoch-powell-could-blue-plaque-14223826
The Scotsman: History society to consider call for Enoch Powell plaque:
https://www.scotsman.com/news/history-society-to-consider-call-for-enoch-powell-plaque-1-4677752
You can read more about Enoch Powell here:
The Guardian: Black Britain's darkest hour:
https://www.theguardian.com/politics/2008/feb/24/race
Wikipedia: Enoch Powell:
https://en.wikiquote.org/wiki/Enoch_Powell
BBC News: The legacy of Enoch Powell makes drama out of a crisis:
http://www.bbc.co.uk/news/uk-england-37752001
[2] The New York Times: Enoch Powell, British Rightist, Dies at 85:
http://www.nytimes.com/1998/02/09/world/enoch-powell-british-rightist-dies-at-85.html
[3] 38 Degrees Campaigns By You: No to Enoch Powell Blue Plaque:
https://you.38degrees.org.uk/petitions/no-to-enoch-powell-blue-plaque
[4] See note [1]
[5] The Mirror: 'Racist' Tory MP Enoch Powell could get Blue Plaque in city where he made infamous Rivers of Blood speech:
https://www.mirror.co.uk/news/uk-news/controversial-tory-mp-enoch-powell-11950238
(Behind a paywall) The Telegraph: Row triggered by new plan to celebrate life of Enoch Powell with blue plaque:
http://www.telegraph.co.uk/news/2018/02/02/row-triggered-new-plan-celebrate-life-enoch-powell-blue-plaque1/