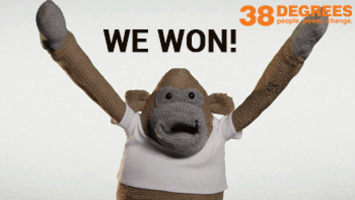 Feb 28th, 2018
PG Tips – we won!
By Nuri Syed Corser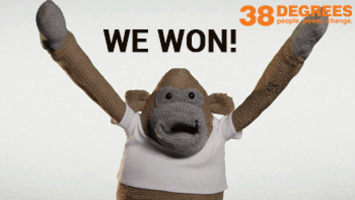 BREAKING: we've just won! PG Tips have today announced that they are removing plastic from their tea bags. [1] Because 38 Degrees-ers like you stood up to Britain's biggest tea manufacturer, there will now be 10 billion fewer fewer plastic tea bags damaging our environment every year. [3]
It can often feel like corporations are too big and too powerful to influence, but today proves that when we join together in our thousands, we're more than a match for them.
It all started six months ago when Mike, a gardener from Wrexham in Wales, started his own 38 Degrees petition. More than 200,000 of us were shocked to discover that our morning cuppa was harming the planet. We joined Mike and together we called on Britain's biggest tea company, PG Tips, to remove plastic from their tea bags. [4]
We signed petitions and spread the word among our friends and family. When it seemed like PG Tips were ignoring the issue, we upped the pressure. Tens of thousand of us emailed PG Tips directly and wrote on their Twitter and Facebook pages…. And it worked!
Today, Britain's biggest tea manufacturer, PG Tips, announced they would aim to make their tea bags plastic free by the end of this year.
There's still work to be done. Other big tea companies like Tetleys, Twinings and Yorkshire Tea still haven't committed to going plastic-free. [5] But today we can celebrate a big victory for people power – and 10 billion fewer plastic tea bags harming our environment every year.
NOTES:
[1] The Telegraph: PG tips switches to plastic-free tea bags after 200,000 sign gardener's petition:
https://www.telegraph.co.uk/news/2018/02/28/pg-tips-switches-plastic-free-tea-bags-200000-sign-gardeners/
[2] In their press release, PG Tips said: " Tea is the most consumed beverage after water in the UK  with 10 billion PG tips tea bags made every year and after 85 years of making PG tips, we have a great understanding on how brits love their tea."
[3] The Guardian: An eco-friendly cuppa?:
https://www.theguardian.com/environment/2018/jan/28/teabags-plastic-free-co-op-eco-friendly
[4] 38 Degrees: Remove plastics from tea bags:
https://you.38degrees.org.uk/petitions/remove-plastics-from-tea-bags
[5] BBC: Non-biodegradable teabag petition led by gardener:
http://www.bbc.co.uk/news/uk-wales-north-east-wales-42412492