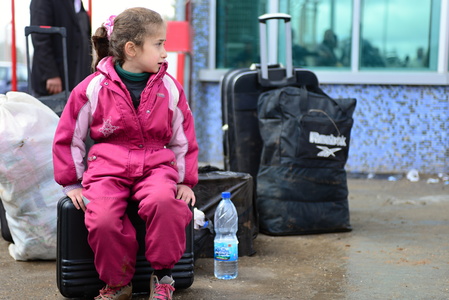 Mar 5th, 2018
Let refugee children live safely with their families
By Beth Jamal
Refugee children who flee war torn countries and terror are facing life in the UK alone, thousands of miles from their parents. Right now they don't have the right to bring their families to live with them in the UK. [1] Families are being broken up by red-tape.
Next week MPs will be voting on a law that could change this and give refugee children the right to be safely reunited with their families. It's been put forward by Angus MacNeil MP, but will only pass if over 100 MPs turn up to the vote and back the law. [2] So Angus MacNeil has asked 38 Degrees-ers to help. [3]
A huge petition will show MPs that the public want refugee children to have the love, that only families can give. Already some MPs from all political parties are backing the law, but to push this through thousands of us need to speak up and demand enough MPs turn up and vote. [4]
So,please can you sign the petition now to make sure MPs do the right thing and give refugee children the right to a loving family life? It only takes 30 seconds:
Refugee children have come to the UK having fled danger, persecution, war and natural disaster. They've been through more than most of us can imagine, but our laws mean they are left isolated and alone, without parents to provide love and support. [5] The UK is one of only two EU countries who deny refugee children the right to bring their parents to live with them. [6]
38 Degrees members have a strong record of standing up for a Britain we can all be proud to live in, a Britain that welcomes and protects those who need it most. By reuniting refugee children with their families, this new law will give them a chance at a happier, brighter future. It's how we'd all like to be treated if our families were ever in need.
We know we can do this. The vote next week is what's called a "Private Member's Bill", and just a few months ago 38 Degrees members persuaded MPs to vote for one of these to protect emergency workers, like firefighters and paramedics, from abuse at work. [7] We also persuaed MPs to vote for a new law allowing parents the time off and support they need if they lose a child. [8]
So, please sign the petition and make sure that our country gives refugee children the right to a reunite with their loved ones.
NOTES:
[1] SOS Childrens Villages: SOSUK welcomes call to end 'heartbreak' of refugee family reunion rules:
https://www.soschildrensvillages.org.uk/news-post/labour-refugee-reunion/
British Red Cross: Family reunion:
https://38d.gs/redcrossfamilies
[2] Parliament: Refugees (Family Reunion) (No. 2) Bill 2017-19:
https://services.parliament.uk/bills/2017-19/refugeesfamilyreunionno2.html
Parliament: Private Members' Bills:
http://www.parliament.uk/about/how/laws/bills/private-members/
[3] Angus MacNeil started a petition on the 38 Degrees website. He knows the law will only pass enough of us speak out and persuade our MPs to do the right thing and turn up for the vote, so he's asking 38 Degrees members to get involved by signing his peititon.
38 Degrees: Let refugee children live safely with their families:
https://38d.gs/letre3fcc
[4] Angus MacNeil: Widespread support for SNP MP's 'Refugee family reunion' bill:
https://38d.gs/wides40d0
[5] Refugee Council: Safe but not settled:
https://www.refugeecouncil.org.uk/assets/0004/2515/Safe_but_not_settled.pdf
[6] Help refugees.org: Child refugees should be allowed to reunite with their families, say campaigners:
https://helprefugees.org/child-refugees-sponsor-families/
[7] 38 Degrees Blog: 4 wins this week:
https://home.38degrees.org.uk/2017/10/24/four-wins-week/
[8] See note 7