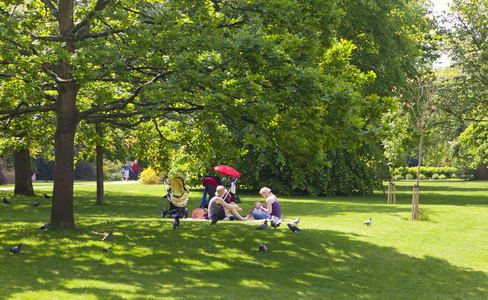 Mar 16th, 2018
Parks Consultation
By Becca McCarthy
Our parks and green spaces are a vital part of our lives – spaces where we can gather, play and relax. For years cash strapped councils have drastically cut park budgets. And now Heritage Lottery Fund have scrapped one of the last pots of money available to help keep our parks alive. [1]
Right now Heritage Lottery Fund are asking the public to have their say on how they spend their money for the next 5 years. [2] Already over 175,000 of us have signed a petition calling on them to bring back money for parks. [3] But to make sure they listen, we need to show them that our parks are a vital part of our heritage they need to protect.
If thousands of us share our views on the importance of parks for our heritage and daily lives, we can make a case for our parks that'll be impossible to ignore. It could be the evidence we need to convince Heritage Lottery Fund to put our parks at the top of the list for cash they desperately need.
We've only got one week until the consultation closes – will you share your views and help make the case for our parks and green spaces? It'll only take two minutes.
Heritage Lottery Fund's parks programme has invested millions of pounds into our parks and green spaces. Without this vital funding, our parks face an uncertain future. We could see our parks being left to fall into disrepair or being sold off. [4] With councils struggling to balance the books making even deeper cuts to parks budgets, we can't let this last funding pot disappear. [5]
38 Degrees members have come together before to protect our beautiful and natural open spaces. Hundreds of thousands of us came together to stop government plans to sell off our beloved national forests. [6] And just last year hundreds of us descended on parks up and down the country with our friends and family to celebrate our parks and show politicians that our green spaces are valued by everyone. [7]
PS: This campaign was started by the Parks Alliance, a group of 40 organisations that come together to protect the parks and green spaces at the heart of our communities. Right now the future of our parks is at risk because there's no money to look after them. Will you help make the case for our parks and fill out the survey now?
NOTES:
[1] Heritage Lottery Fund: Changes to our grant making:
https://38d.gs/hlfstrategy
Horticulture week: HLF ending of Parks for People programme "a black day":
https://www.hortweek.com/hlf-ending-parks-people-programme-a-black-day/parks-and-gardens/article/1452469
[2] Heritage Lottery Fund: We want to hear from you on HLF's future direction and funding:
https://www.hlf.org.uk/about-us/news-features/we-want-hear-you-hlfs-future-direction-and-funding
[3] 38 Degrees: Protect Heritage Lottery Funding for Parks:
https://you.38degrees.org.uk/petitions/protect-heritage-lottery-funding-for-parks
This campaign was started by the Parks Alliance, a group of 40 organisations that come together to protect the parks and green spaces at the heart of our communities.
The Parks Alliance:
https://www.theparksalliance.org/
[4] LocalGov: Council agrees to sell off 10% of its parks:
https://www.localgov.co.uk/Council-agrees-to-sell-off-10-of-its-parks-/44308
The Guardian: The end of parklife as we know it? The battle for Britain's green spaces:
https://38d.gs/theguardianparks
[5] See note 4
[6] 38 Degrees: Victory! Government to scrap plans to sell our forests:
https://home.38degrees.org.uk/2011/02/17/victory-government-to-scrap-plans-to-sell-our-forests/
[7] 38 Degrees: Have a Field Day:
https://home.38degrees.org.uk/2017/07/19/have-a-field-day-2/