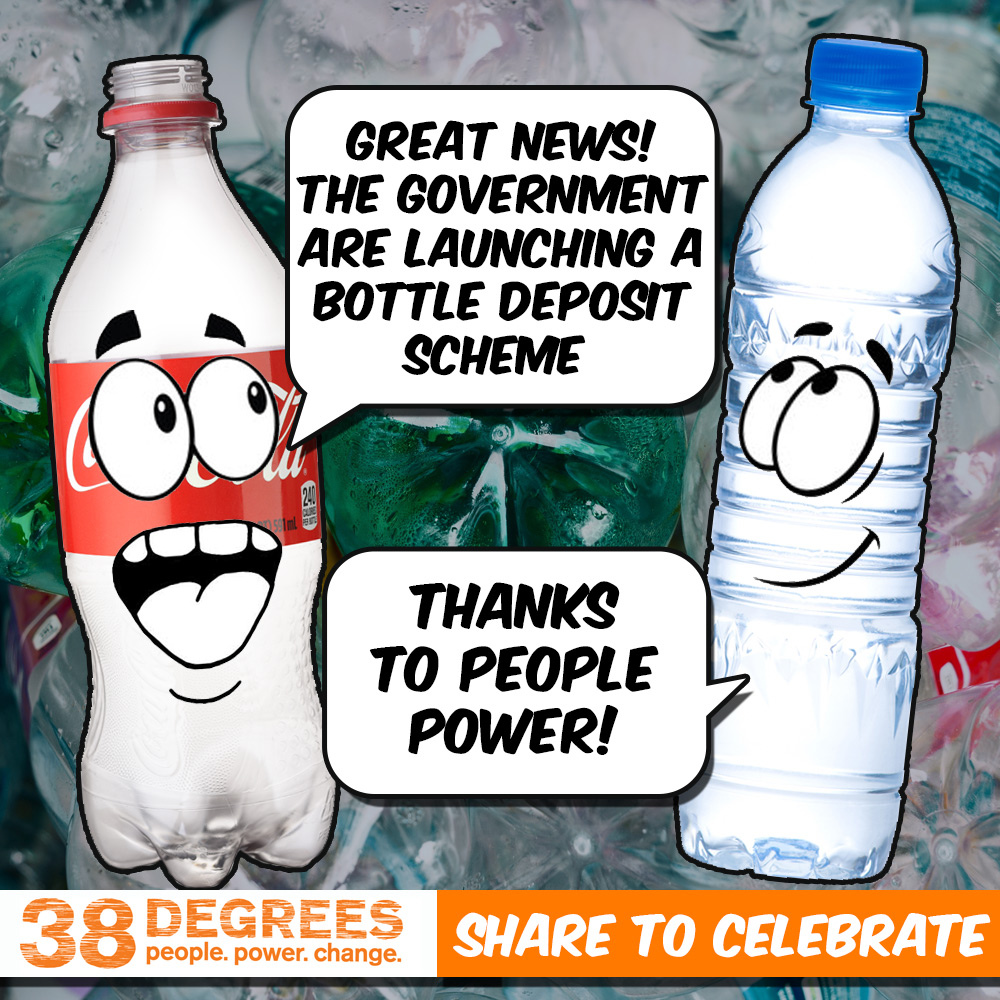 Mar 28th, 2018
Bottle Deposits: We won!
By Nuri Syed Corser
Amazing news: we've convinced Michael Gove to bring back bottle deposits! Hundreds of thousands of 38 Degrees-ers are part of this win. So when you hear it announced on the news you can feel an extra sense of pride.
Environmental charity Surfers Against Sewage started the petition on the 38 Degrees website, asking Environment Minister Michael Gove to bring back a bottle deposit recycling scheme. And now we've won! Together we created this amazing success story. Here's how we did it:
329,314 of us signed the petition – one of the biggest in 38 Degrees history – demanding that Michael Gove did the right thing to tackle plastic pollution  

We handed in the petition in style straight to 10 Downing Street – complete with a boat made of bottles

A huge 150,944 of us told the government what we thought about plastic and litter when they asked for the public's thoughts

A further 62,347 of us piled in with emails and messages to an influential group of MPs, urging them to recommend a bottle deposit scheme to the government. And they listened

We chipped in fivers and tenners for polling to show that the public was behind the idea – and it made it into national news
38 Degrees campaigner Holly handing in the petition with Hugo from Surfers Against Sewage.
A giant boat made of plastic bottles, used at the petition hand in.
This is a victory for people power. But most of all, it's an incredible victory for our environment. In the UK we use a shocking 38.5 million plastic bottles every day. Now, with a deposit scheme for plastic cans, bottles, glass and metal on its way, up to 95% of plastic bottles and drinks containers will be recycled.
Often it can feel hard to make a difference as just one person. But the beauty of working together is that when one voice is joined by millions more, we are more powerful than any of us could be on our own.

If you want to start your own petition you can do here:
https://you.38degrees.org.uk/petition/new

Read more about the news here:
BBC News: Drinks bottles and can deposit return scheme proposed:
http://www.bbc.co.uk/news/science-environment-43563164