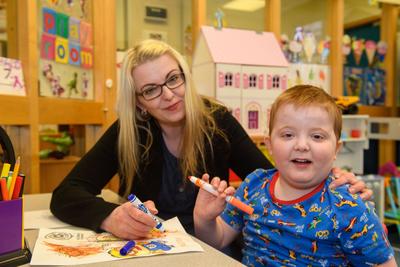 Apr 6th, 2018
Cannabis Oil
By Becca McCarthy
5 year old Murray has a rare form of epilepsy that causes him to suffer up to 100 seizures a day. It's left Murray unable to have a normal life, and left his family feeling helpless. [1]
Medicinal cannabis has been proven to help children like Murray and is legal in countries across Europe and in the USA. [2] But the treatment is still illegal in the UK.
So Murray's mum, Karen, has set up a 38 Degrees petition calling on the government to help her son. The government is coming under more and more pressure to allow the NHS to prescribe medicinal cannabis in cases like Murray's. It's been making headlines, and MPs have been pressing them on it. [3] But so far they're refusing to budge. [4]
What's missing is our voices telling them we want children like Murray to get the NHS treatment they need. If enough of us add our name to the petition, the government will realise we expect them to find a solution. It could make all the difference to little Murray's life.
Will you sign Karen's petition now to help Murray get the treatment he needs?
Lots of other countries have already made prescriptions for medicinal cannabis legal. In the US it's helped people deal with conditions like epilepsy and multiple sclerosis, and in lots of European countries it has been legal for years. [5] This isn't about wanting to legalise all drugs, it's about helping our NHS treat serious illnesses so that patients can live better lives.
Right now children like Murray are suffering because the government don't want to look like they are softening laws on drugs, even if it's the right thing to do. If thousands of us sign Murray's mum's petition, calling on the government to do the sensible thing and legalise NHS prescriptions of medicinal cannabis oil, it will show them they need to act.
NB. The campaign has been started by Murray's mum, Karen. It isn't a campaign to legalise drug use. It's a campaign to change the law about the medical support parents and carers can get to help family or friends cope with conditions that can leave them bed bound, or unable to feed themselves. You can read more about Karen and Murray's story here: https://www.edinburghnews.scotsman.com/news/mum-s-plea-for-cannabis-on-nhs-to-treat-her-son-s-epilepsy-1-4707370
NOTES:
[1] The Scotsman: Mum shares video of son's fit in bid to legalise cannabis oil:
https://www.scotsman.com/news/uk/mum-shares-video-of-son-s-fit-in-bid-to-legalise-cannabis-oil-1-4713322
[2] Medicinal cannabis comes in many forms, but one that is used for treatment comes as an oil:
Epilepsy Foundation: Medical Marijuana and Epilepsy:
https://www.epilepsy.com/learn/treating-seizures-and-epilepsy/other-treatment-approaches/medical-marijuana-and-epilepsy
[3] (Paywall) The Telegraph: Sir Patrick Stewart urges cannabis treatment for boy with epilepsy:
https://www.telegraph.co.uk/news/2018/03/20/sir-patrick-stewart-urges-cannabis-treatment-boy-epilepsy/
The Sun: ALFIE'S DOPE BID Boy, six, meets with Theresa May to help change cannabis laws to treat his rare epilepsy:
https://www.thesun.co.uk/news/5860977/alfie-dingley-theresa-may-meeting-cannabis-laws/
The government also faced questions on this from MPs last month, asking why they haven't dealt with a similar case, a boy called Alfie Dingley. The transcript of their questions are here:
https://hansard.parliament.uk/Commons/2018-02-20/debates/5C18DA05-4AF4-408A-A7C2-67F3E84133CC/MedicalCannabis
[4] Government rules out granting medical cannabis licence to boy, 6, with 'death sentence' epilepsy condition:
https://www.telegraph.co.uk/news/2018/02/18/home-office-rejects-mps-call-grant-medical-cannabis-licence/
The Guardian: Home Office considers cannabis oil trial to help boy with epilepsy:
https://www.theguardian.com/uk-news/2018/mar/01/alfie-dingley-home-office-considers-medical-cannabis-trial-to-help-boy-with-epilepsy
Express: Labour civil war: Corbyn's MPs turn on each other over bid to legalise cannabis:
https://www.express.co.uk/news/uk/923521/Cannabis-bill-weed-legal-UK-MPs-bill-Labour
[5] See note 2