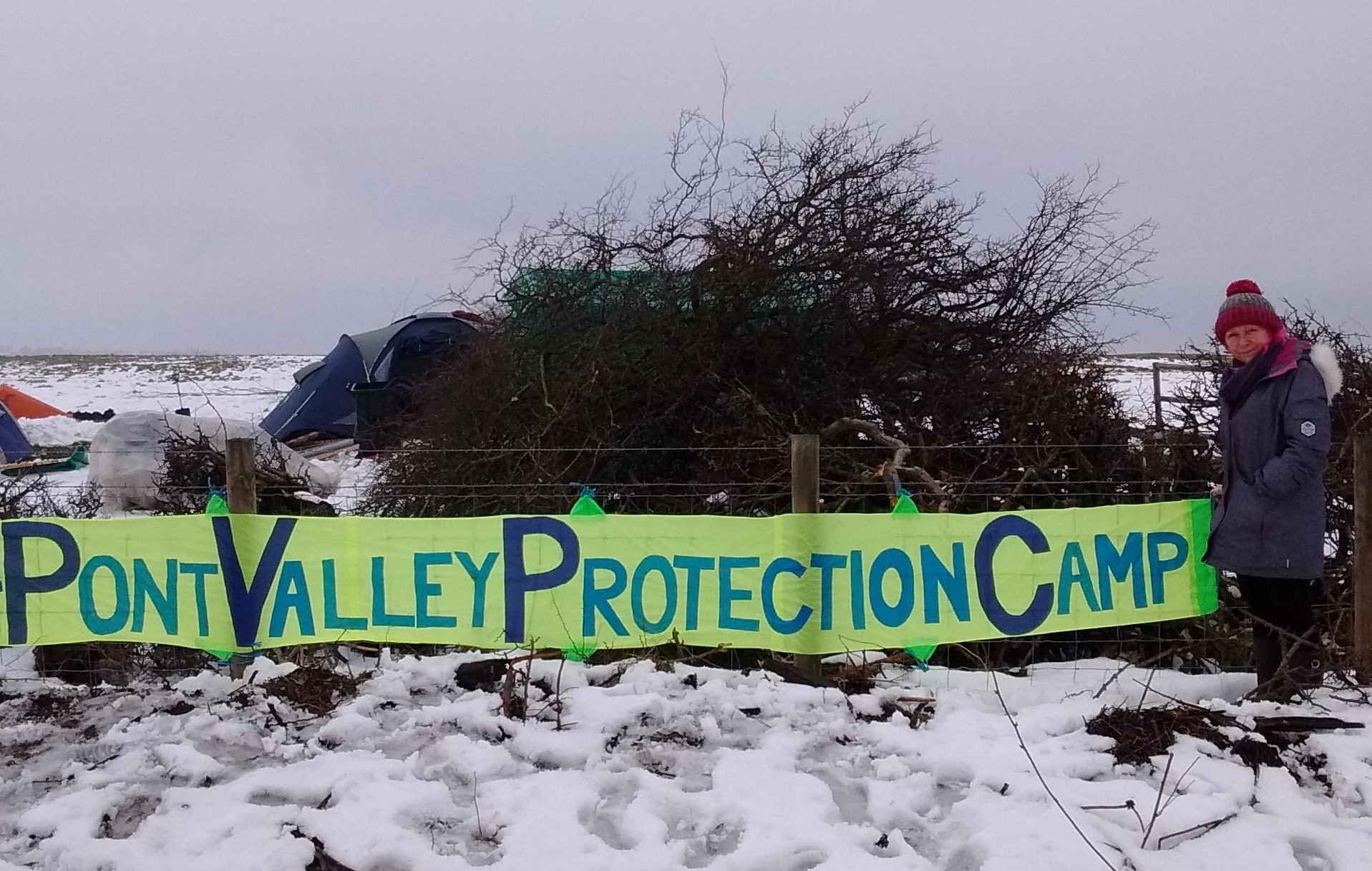 Apr 6th, 2018
Opencast Coal Mine: Fundraiser
By Becca McCarthy
Any day now work could begin on the UK's first opencast coal mine since 2014 – but we've got a chance to stop the diggers in their tracks. Mining company Banks Group have just 61 days to bring in heavy machinery and start tearing up County Durham's green fields – or lose planning permission for their mine. [1]
But thankfully Protect Pont Valley campaigners have a plan to stop them. [2] For over a month local people have been camping out on the site of the future mine to stop any work happening – through wind, rain and snow! [3] If they can keep put for just 61 more days, it'll stop the mine for good.
The clock's ticking, Banks Group are desperate to bring in their diggers before time runs out. They've already taken the campaigners to court to try and evict the camp. And they'll be using every legal trick in the book until they're able to get people off the land and the heavy machinery in. [4] With pockets as deep as theirs, that's a lot of tricks.
If Protect Pont Valley campaigners have the cash they need to fight their case in the courts, it could be enough to stop the mine. We can't all give up our time to camp out in the fields of Durham – but nearly 90,000 of us have already signed the petition, including you. [5] Now let's go one step further and chip to pay for the legal support the camp needs to stay put until planning permission runs out. [6]
Banks Group's legal team have already lept into action – so we need to act fast. Can you chip in a few pounds to keep the heavy machinery off Durham's fields? You can donate securely here:
Alone, Protect Pont Valley campaigners would struggle to raise the funds they'll need to take on the mining company. Legal advice, court fees and solicitors all cost thousands of pounds. It's a lot for a small group. But if thousands of us chipped in just a few pounds we could make sure the local people swapping cosy living rooms for snowy fields have the cash they need to stay put long enough to stop the mines.
That's the beauty of 38 Degrees. When we pool our resources, we're hugely powerful. Just last week campaigners at Druridge Bay, supported by 38 Degrees-ers, had some great news. The minister, Sajid Javid rejected planning permission for a new opencast coal mine at Druridge Bay. [7] The tide is turning on opencast coal mines – together we can stop the new coal mine in Durham too.
PS:
Coal was our proud past, but it isn't the future we should build. The Minister Sajid Javid recently rejected planning permission for another opencast mine in Druridge Bay because environmental concerns outweighed the benefits to the economy. [8] Rather than new opencast mines that create just a handful of jobs, the government should focus on protecting our environment and create new, greener jobs in Durham and the UK.
NOTES:
[1] Banks Group's planning permission for the new opencast coal mine in Durham expires on 3rd June 2018. If they don't start work before then, they'll no longer have the necessary planning permission.
Coal Action Network: Bradley opencast: the story so far:
https://www.coalaction.org.uk/2018/01/bradley-the-story-so-far
Mail Online: Government urged to stop open cast coal mines:
http://www.dailymail.co.uk/wires/pa/article-5385655/Government-urged-stop-open-cast-coal-mines.html
[2] The Protect Pont Valley campaigners are on the ground camping out to stop construction of the opencast coal mine. They're working with and being supported by Coal Action Network.
[3] The Northern Echo: Activists set up camp in fight against controversial opencast coal mine at Bradley site, near Leadgate:
http://www.thenorthernecho.co.uk/news/local/northdurham/stanley/16062386.Activists_set_up_camp_in_sub_zero_temperatures_in_fight_against_controversial_opencast_coal_mine/
Coal Action Network: Court and Camp moves:
https://www.coalaction.org.uk/2018/03/court-and-camp-moves
[4] See note [3]
[5] No new opencast coal mines in Durham, UK :
https://you.38degrees.org.uk/petitions/revoke-planning-for-bradley-opencast-coal-mine
[6] If you would like to go and show your support all of the information is here:
Coal Action Network: Join the Pont Valley Protection Camp!:
https://www.coalaction.org.uk/2018/03/protection-camp
[7] The Guardian: Minister cites climate change in rejection of opencast coal mine:
https://www.theguardian.com/business/2018/mar/23/minister-rejects-opencast-coal-mine-northumberland-citing-climate-change-fears
38 Degrees: Hands off Druridge Bay:
https://you.38degrees.org.uk/petitions/hands-off-druridge-bay
[8] See note 7