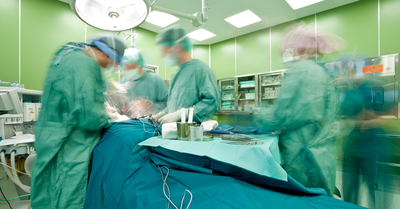 Jun 1st, 2018
NHS Staffing Crisis
By Becca McCarthy
Our NHS hospitals are at breaking point because there aren't enough staff. [2] Doctors and nurses from overseas want to work in our NHS and help ease the crisis. But government red tape and made-up targets mean they're being blocked from coming here. [3]
But there's an easy fix. With the stroke of a pen, the new Home Secretary, Sajid Javid, could allow more doctors and nurses to come and work in the NHS. He's been brought in after a government scandal that forced the last Home Secretary to resign. You can bet he'll be looking out for ways make the government look good. [4]
That's where we come in. It's Sajid Javid's first week in the job, and he'll be watching what the public are thinking. A huge petition this week could make waves in his office. It could be the start of a huge campaign to solve the NHS staffing crisis.
If you think the NHS should have the world's best staff, will you sign the petition now? It takes less than 30 seconds:
Right now, the government has an overall target for the number of people who can migrate to Britain. [5] But doctors, nurses and specialists from overseas are included in that target – which means the NHS can't recruit the staff it desperately needs.
NHS bosses have been sounding the alarm, saying it could have "serious consequences." [6] Just this month, 100 doctors were blocked from working in the north-west of England because of government red tape and targets. [7]
When hospitals and GPs don't have the staff they need, it's patients like us that suffer. [8] It means long waits on trolleys in A&E corridors, or operations being cancelled and delayed for months. If we want to make sure the NHS continues to be the best in the world, something needs to change – and fast.
Health experts and politicians are already speaking out. They're pointing out the damage these made-up targets and government red tape are doing to our struggling NHS. [9] All that's missing is our voices – the people who use the NHS and want to protect it.
NOTES:
[1] The Times: Relax visa rules for doctors and nurses, Tories tell May:
https://www.thetimes.co.uk/article/relax-visa-rules-for-doctors-and-nurses-tories-tell-may-2xb3lkhqq
The Daily Mail: PM faces revolt by Tory MPs over immigration rules for NHS workers amid warnings of staff shortages:
http://www.dailymail.co.uk/news/article-5794437/PM-faces-revolt-Tory-MPs-immigration-rules-NHS-workers.html
[2] The Guardian: Patient safety hit by lack of staff, warn 80% of NHS workers:
https://www.theguardian.com/society/2018/mar/18/hospitals-staff-shortage-nursing-nhs-rcn-patient-care-sarah-johnson-survey
[3] The Guardian: UK hits visa cap on skilled workers for third month in row:
https://www.theguardian.com/uk-news/2018/feb/18/uk-hits-skilled-worker-visa-cap-third-month-home-office-refuses-applications
Personnel Today: Counting the cost of the non-EU immigration cap:
https://www.personneltoday.com/hr/counting-cost-non-eu-immigration-cap-tier-2-visa/
HCL Workforce solutions: Migrant rules leaving NHS short of highly-skilled professionals:
https://www.hclworkforce.com/blog/migrant-rules-leaving-nhs-short-of-highly-skilled-professionals/
[4] BBC: Sajid Javid replaces Amber Rudd as home secretary:
http://www.bbc.co.uk/news/uk-politics-43946845
Telegraph: Front Bench: Amber Rudd resigns in the wake of Windrush scandal, leaving May exposed :
https://www.telegraph.co.uk/politics/2018/04/30/front-bench-amber-rudd-resigns-windrush-scandal-leaving-may/
[5] Immigration: Tories to keep 'tens of thousands' target:
http://www.bbc.co.uk/news/uk-politics-39840503
[6] The Times: Staffing crisis worsened by visa curbs, doctors warn:
https://www.thetimes.co.uk/article/staffing-crisis-worsened-by-visa-curbs-doctors-warn-9tphnpfgq
[7] Independent: Fury as NHS recruits 100 doctors from India only for Home Office to deny them all visas:
https://www.independent.co.uk/news/uk/home-news/nhs-doctor-recruitment-india-home-office-visas-rejected-amber-rudd-windrush-a8324831.html
[8] The Sun: Future is bleak: NHS patients 'more at risk than ever', shock poll of medics reveals:
https://www.thesun.co.uk/news/5782924/nhs-patients-more-at-risk-than-ever-shock-poll-of-medics-reveals/
[9] Personnel Today: NHS leaders say immigration cap is harming services:
https://www.personneltoday.com/hr/nhs-leaders-immigration-cap-harming-services/