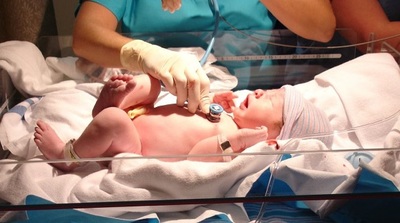 Jun 11th, 2018
NHS Pledge
By Becca McCarthy
The NHS is in the fight of its life, facing formidable enemies who don't want it getting any more money. [1] Theresa May is deciding right now how much money she thinks our cash-starved NHS deserves. [2] If our NHS is going to survive, we have to drown out the voices of these powerful politicians and lobbyists who have her ear.
As 38 Degrees-ers, we know bold steps are needed to fix this crisis – including options like a small tax rise to fund the NHS. [3] If Theresa May doesn't give our health service enough money now, we'll get long waits for an ambulance or hours stuck in A&E when we're desperate for care. [4]
Politicians can be cynical. They think voters like you and me would prefer tax cuts over being part of a society where everyone can get the treatment they need, when they need it. And the best way to prove them wrong is if thousands of us make a promise – to gladly pay a little more tax for our NHS.
Will you show Theresa May that you'd be happy to pay a little more tax to help our NHS?
If we pledged – in our hundreds of thousands – to pay a little bit more in tax, we could shake up the cynical politics that has starved our hospitals of cash. It'll show politicians that to us a little bit more in tax is a small price for world-class healthcare. Then we could:
Get our MPs to put their money where their mouths are and ask them to take the pledge too
Splash our pledge all over the press so politicians can't ignore us
Speak to our colleagues, friends and family and get as many people as we can to say they'd support fair tax rises too
Build a groundswell of support, so politicians know we'll back them if they take bold leadership
70 years ago the NHS was founded because people across the UK came together to say that everyone deserved equal access to healthcare.
Now, on the eve of it's 70th birthday, we need a new movement of people willing to stand up and fight for the NHS. For that to happen, all of us need to say we're happy to do a little bit more.
NOTES:
[1] Right now the influential lobby group TaxPayers Alliance are speaking out against a ring-fenced tax rise to fund the NHS:
BBC News: How should we pay for the NHS?:
http://www.bbc.co.uk/news/av/uk-politics-43546689/how-should-we-pay-for-the-nhs
Financial Times: Philip Hammond argues against ring-fenced tax to fund NHS (paywall):
https://www.ft.com/content/f7dc991a-44ad-11e8-93cf-67ac3a6482fd
[2] BBC: NHS: PM to look at 'multi-year funding' plan for health service:
http://www.bbc.co.uk/news/uk-politics-43558878
Express: 'NHS on financial knife-edge' May and Hammond slammed in latest funding row:
https://www.express.co.uk/news/uk/967257/nhs-theresa-may-philip-hammond-funding-financial-knife-edge-jeremy-hunt
[3] 38 Degrees: The results are in: which tax policies should fund our NHS?:
https://home.38degrees.org.uk/2018/05/15/which-tax-policies-should-fund-our-nhs-the-results-are-in/
[4] The Guardian: A&E doctor sorry for 'third world conditions' as NHS winter crisis bites:
https://www.theguardian.com/society/2018/jan/02/ae-doctor-sorry-for-third-world-conditions-as-nhs-winter-crisis-bites
The Guardian: NHS: up to 100,000 had to wait 30 minutes in ambulance this winter:
https://www.theguardian.com/society/2018/jan/18/nhs-crisis-wait-30-minutes-ambulance-winter
Daily Mail: Patients may no longer be able to get painkillers, cough mixture and eye drops on the NHS as bosses call to axe 'wasteful' prescriptions to save money:
http://www.dailymail.co.uk/health/article-5133403/Patients-not-able-painkillers-NHS.html