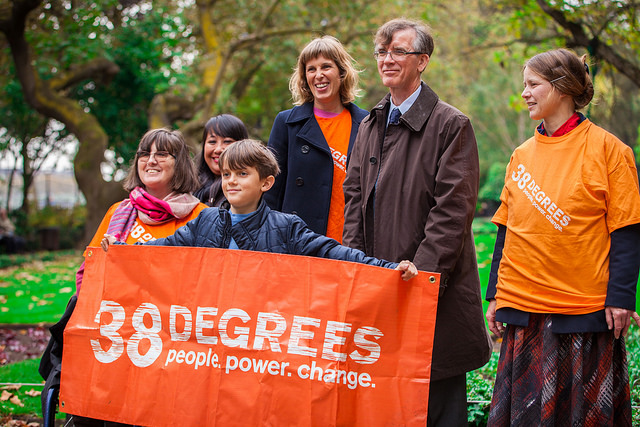 Aug 2nd, 2018
38 Degrees actions this week
By Megan Bentall
It's been a busy week for hundreds of thousands of 38 Degrees members across the country. Here's a snapshot of what we've been working on this week.
Pledging to save our NHS:
Delays in A&E, vital services shutting down, operations cancelled or delayed for months. The NHS is at breaking point. But we've got a chance to turn it around in a fair way so it'll last for generations to come.
The government has promised to increase health funding. But powerful and wealthy lobbyists are already circling. They don't want the NHS to get more money – and they certainly don't want any increase to come from a small, fair tax rise. But a tax rise is the best way of guaranteeing the money, without making major cuts elsewhere.
We can pull the rug out from under them. Already more than 124,000 of us have pledged that we'd happily pay a little more in tax to fund our NHS. Please will you add your name?
Pensions support:
Welfare Secretary Esther McVey wants to "kill off" a new government website which would help millions of people keep track of their pensions throughout their careers, because she thinks it's not the government's job to help. Without it millions of pension pots are at risk of being lost.
The website has already been successfully tested, and was due to be rolled out nationally soon. A huge petition signed by thousands of us will show the government we expect them to keep their promises and continue to roll out the pensions dashboard: Add your name here.
Walkers Crisps:
We eat more crisps than any other nation on earth. But right now almost all the crisps sold in the UK are in non-recyclable plastic packaging which doesn't rot. Walkers Crisps sell more than half the crisps we eat. If they switched to recyclable or biodegradable packets it'd make a huge difference for our environment and wildlife.
That's why Geraint, set up a petition on the 38 Degrees website calling on Walkers to lead the way and switch their packaging. Already 275,000 people have signed the petition and it's making waves. Walkers' top bosses have asked to meet Geraint, the petition starter, next week.
Walkers are listening – now we've got make them take action. If we can get the petition past 300,000 signatures in time for the meeting next week, they'll have to act.
Fracking companies vs  democracy:
The government's trying to give toxic energy companies a free pass to frack by getting rid of planning permission. It could make it as easy for fracking companies to drill as putting up a garden shed. They would be able to risk our landscape, waterand could even cause earthquakes without local authorities having the power stop them.
Right now, the government's testing the waters. They'll want to get these plans through as quietly as possible, not deal with a huge public backlash. If we build a huge petition with hundreds of thousands of signatures, we can show the government this is a battle they won't be able to win. Make sure our landscape and democracy is protected for years to come by signing the petition today.