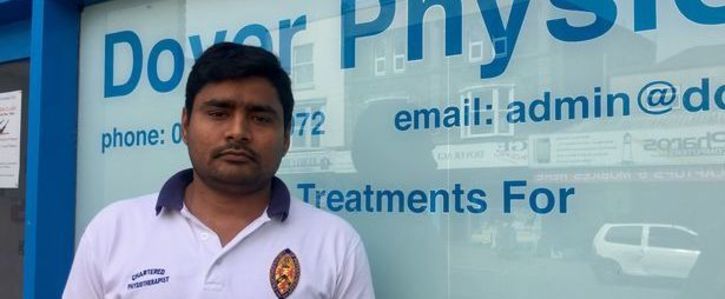 Aug 14th, 2018
Stop Satheesh being deported
By Becca McCarthy
This just isn't fair. Home Office red tape means that a local community could be about to lose its only private physiotherapist. Satheesh Sankara Gounder sees up to 100 patients a week at his clinic in Dover. [1] Now he faces being kicked out of the country because of unfair rules.
Satheesh's patients and their local MP are in uproar and have been campaigning for Satheesh to stay. [2] A final decision is still being made by the Immigration Minister, Caroline Noakes. But Satheesh has just been sent a letter, demanding that he report to an immigration office on the 17th of August – it's feared he'll be detained and deported.
A huge public petition signed by hundreds of thousands of us, delivered straight to Caroline Noakes' desk, will send a message loud and clear. The British public want the Home Office to do the right thing and let Satheesh – a hard working local businessman – stay and continue caring for his patients.
Will you join 60,000 others and add your name to the petition to help stop Satheesh and his wife being deported?
Satheesh set up his physiotherapy clinic three years ago and has worked every day since, treating local people. Locals would have to travel miles to find treatment without him. But he's been told by the Home Office he hasn't quite invested enough money or employed enough staff – despite trying to employ another physio for two years!
Satheesh says:
"I have invested around £51,000 in this business. But if I go, I lose everything.
The Home Office shouldn't just be looking at paperwork. They need to be looking at the area, where we are setting up our business and what service we are providing to our community." [3]
38 Degrees-ers have stood up for people facing unfair deportation before – and we've won. In 2014, over 81,000 of us came together to support Wadih Choudry, a man with Down's Syndrome who was facing deportation to Lebanon – a country he fled to escape persecution. [4] Thanks to a huge public outcry, Wadih was allowed to stay here in the UK.
Notes:
[1] Kent Live: The unfair reason a heartbroken physiotherapist has just one month to stay in the country:
https://www.kentlive.news/news/kent-news/unfair-reason-heartbroken-physiotherapist-just-1610627
[2] ITV News: Patients campaign against physio's deportation:
http://www.itv.com/news/meridian/update/2018-06-18/patients-campaign-against-physios-deportation/
[3] See note 1
[4] 38 Degrees Campaigns By You: Do not deport Wadih Chourey back to Lebanon:
https://you.38degrees.org.uk/petitions/do-not-deport-wadih-chourey-vack-to-the-lebanon-just-because-his-parents-have-died