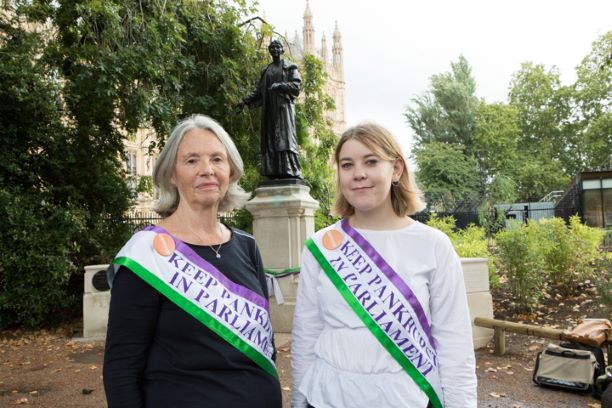 Aug 23rd, 2018
More than 70,000 say 'Keep Pankhurst in Parliament'
By Beth Jamal
A petition calling on Westminster City Council to stop the removal of a statue of legendary suffragette Emmeline Pankhurst from the grounds of Parliament has reached over 70,000 signatures.
38 Degrees member, Jacquie Hawkins from Epsom, started the campaign after discovering plans to move the 88 year old statue to a private college.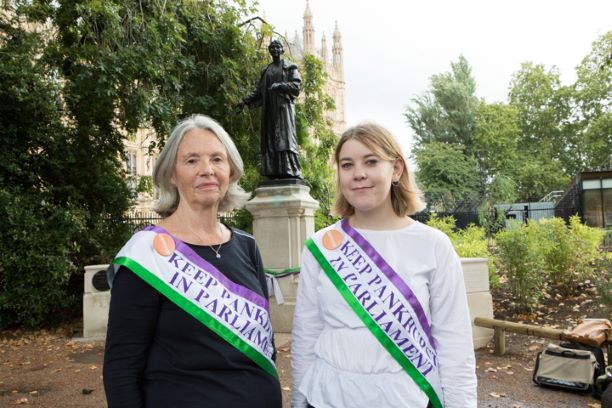 Photo: Jacquie and Georgie pose next to the statue.
The statue was commissioned by suffragette campaigners in 1930 after Pankhurst's death to commemorate her contribution to the campaign for women's suffrage.
Jacquie Hawkins said,
"I set up this petition because whilst we've made so much progress on gender rights, it's plans like these that make me feel like it's one step forward, two steps back. I couldn't believe it when I woke up the next morning to find over 50,000 people had signed it. My family are so impressed!"
Organiser at 38 Degrees, Georgie Laming said:
"That over 70,000 people signed the 38 Degrees petition in a matter of days shows just how strongly the public feel about keeping Emmeline Pankhurst next to Parliament. For tens of thousands of people this piece of women's history is far too important to be ripped out of it's historic home."
Already over 70,000 38 Degrees members have signed the petition You can sign it  here: https://38dgs.org.uk/Sign-petition