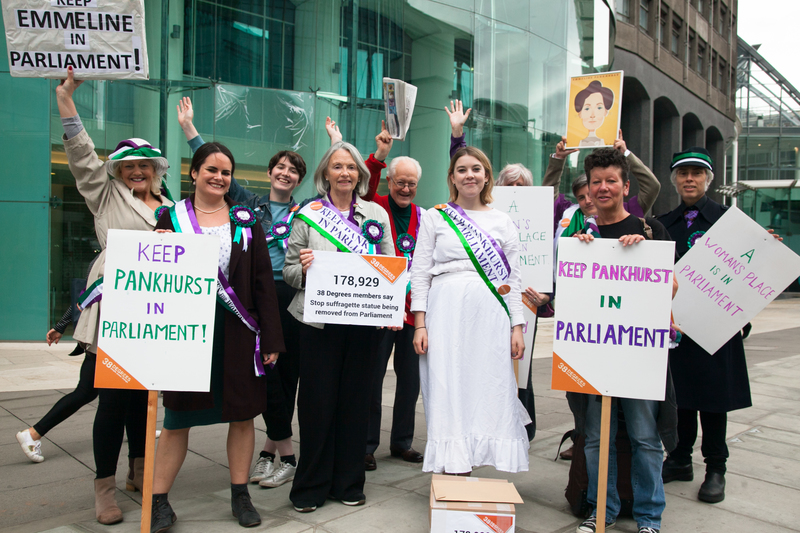 Sep 17th, 2018
Pankhurst Victory
By Becca McCarthy
We did it! The statue of suffragette Emmeline Pankhurst is going to stay in Parliament. That's thanks to hundreds of thousands of us. [1]
The planning application to move Pankhurst from her historic home was withdrawn just days after we handed over a huge petition to Westminster Council signed by over 180,000 of us. [2] The former MP behind the idea said the opposition was so huge, it'd be impossible for the plans to go ahead. [3]
Today's a day to celebrate! Together we've made sure this important part of our history will stay put and be seen by the millions who visit Parliament each year.
38 Degrees-ers are a powerful bunch because we don't just sit back and hope things change. Instead, millions of us pool our power to make the UK a better place, deciding together what's important, and taking action to win victories like this one.
Will you share your thoughts on this campaign and what we could do together next? It will only take a few minutes.
Here's what Jacquie, who started the campaign to keep Pankhurst in Parliament, said:
"My heartfelt thanks, for this fantastic achievement, goes to all of you for signing and sharing the petition I set up a month ago. I have felt the power of all of you behind me in this endeavour and I believe that we've demonstrated that by pulling together we can achieve so much."
PS: Jacquie started her petition on the 38 Degrees 'Campaigns by You' website.
With Campaigns By You anyone can start their own campaign with the click of a button. But that's just where your journey begins. Creating a petition, then sharing it with friends and colleagues, can soon give you a groundswell of support. Perhaps you'll end up changing something really important.
Use this link to get your campaign started today, it takes just a couple of minutes and we'll support you every step of the way: https://38dgs.org.uk/create_a_petition_today
NOTES:
[1] The Guardian: Proposal to move Emmeline Pankhurst statue withdrawn:
https://www.theguardian.com/uk-news/2018/sep/17/emmeline-pankhurst-proposal-move-statue-parliament-withdrawn?CMP=share_btn_tw
The Telegraph: Emmeline Pankhurst statue will remain near Parliament after plan to move it is abandoned:
https://www.telegraph.co.uk/news/2018/09/16/emmeline-pankhurst-statue-will-remain-near-parliament-plan-move/
[2] 38 Degrees blog: Pankhurst statue: Handing in the petition:
https://38dgs.org.uk/pankhurst_handin_blog
38 Degrees petition: Stop Suffragette statue being removed from Parliament:
https://you.38degrees.org.uk/petitions/stop-suffragette-statue-being-removed-from-parliament
Jacquie handing the petition into Parliament with other 38 Degrees-ers.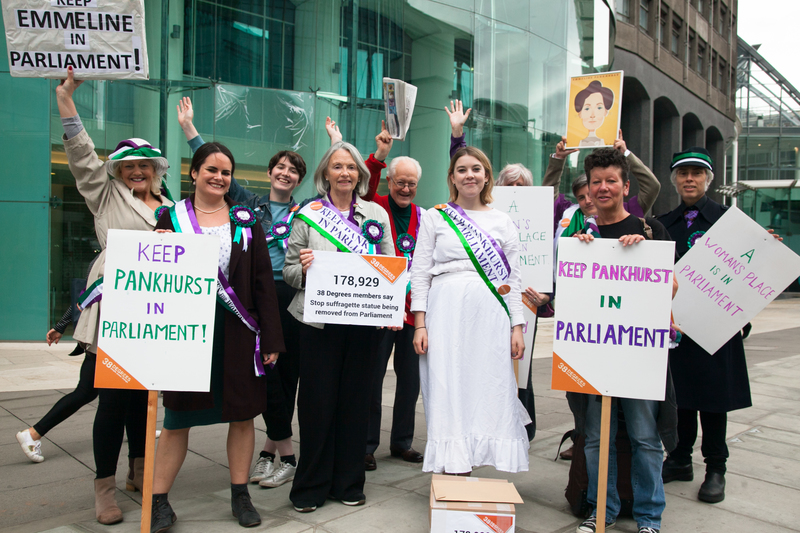 [3] Neil Thorne – the former MP behind the bid to move the statue, said:
"we realised considerable pressure was being put on Westminster City Council, who'd find it more difficult to approve moving the statue."
The Telegraph: Emmeline Pankhurst statue will remain near Parliament after plan to move it is abandoned:
https://www.telegraph.co.uk/news/2018/09/16/emmeline-pankhurst-statue-will-remain-near-parliament-plan-move/