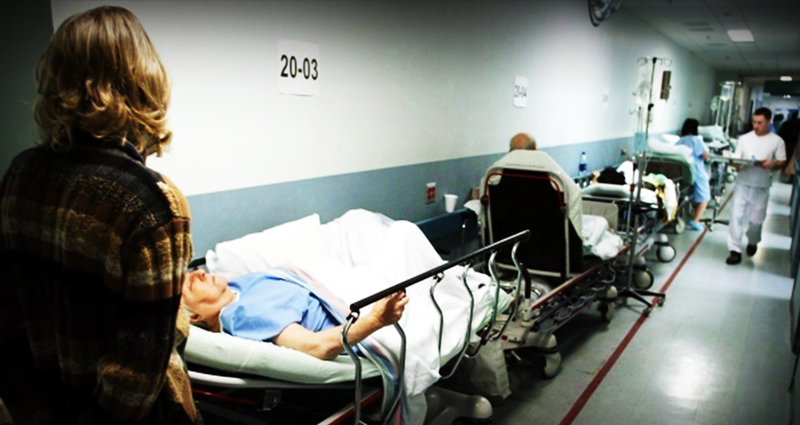 Oct 17th, 2018
Our NHS & the budget
By Becca McCarthy
Some MPs are playing political games with our NHS. [1] We're used to the usual headlines of politicians arguing and infighting. But it's just been revealed that a group of MPs are threatening to vote down the Budget that would deliver the money our NHS needs. [2]
The Budget is just two weeks away. [3] Certain MPs are using the looming deadline to hold our NHS to ransom. But a big enough backlash from people like us – voters and patients – could shine a light on the games they're playing and force all MPs to put our NHS first.
A huge petition signed by hundreds of thousands of us, would send a clear message to MPs: voters won't stand for them playing games that could leave our NHS high and dry. Our MPs will know we'll be watching what they do next, and that we expect them to vote for a plan which delivers our NHS the money it needs.
But we need to act fast. Will you sign the petition now and tell MPs to stop playing political games with our NHS?
The Budget is expected to put forward a plan which outlines where the extra NHS money will come from. Experts say that fair tax changes are the best way of locking in the money for the future. [4] The public agree. [5] But if some MPs play games and vote the Budget down, it'll be hospitals and GPs that are left in the lurch.
Only last winter our NHS was brought to its knees. Patients being treated in hospital corridors, long GP waiting times and people waiting in ambulances outside crowded A&Es. [6] Politicians promised the NHS more money, but empty promises don't pay for extra beds and more doctors. Now, it's time to deliver.
PS.
Last week it was revealed that Bernard Jenkin, a Conservative MP, has been privately messaging colleagues telling them they had no obligation to continue to support the government at the Budget. You can read the leaked messages here:
https://twitter.com/ShippersUnbound/status/1048901459063050240
The future of NHS funding shouldn't be decided by a handful of MPs secretly messaging each other. It should be decided in parliament, with MPs working together to lock in a fair plan that gets our hospitals the money they need.
NOTES:
[1] The Times: Brexiteers threaten to sabotage the Budget (paywall):
https://www.thetimes.co.uk/edition/news/brexiteers-threaten-to-sabotage-the-budget-vg7c9zgmh
Twitter: Tim Shipman:
https://twitter.com/ShippersUnbound/status/1048901459063050240
[2] See Note 1
[3] Sky News: Philip Hammond announces date for 2018 autumn budget:
https://news.sky.com/story/philip-hammond-announces-date-for-autumn-budget-11509435
[4] The Times (paywall): Taxes must rise to pay for NHS, Lagarde says:
https://www.thetimes.co.uk/edition/business/imf-urges-government-to-raise-taxes-to-fund-health-service-r6pwrr0gl
Institute for Fiscal Studies: Cost pressures on the NHS will only grow: it needs a long term funding solution, and that is likely to mean substantial tax rises:
https://www.ifs.org.uk/publications/12998
BBC News: Tax rise needed to fund NHS spending boost, says watchdog:
https://www.bbc.co.uk/news/business-44859337
[5] Financial Times (paywall): Public support for tax-and-spend policies grows:
https://www.ft.com/content/94839568-bce3-11e8-8274-55b72926558f
The Times (paywall): Six in ten voters support tax rises to end austerity:
https://www.thetimes.co.uk/article/six-in-ten-voters-support-tax-rises-to-end-austerity-lgnvdxp8l
Huffpost: Voters told us they would back an income tax rise to fund the NHS:
https://www.huffingtonpost.co.uk/entry/nhs-funding-income-tax_uk_5badd03ae4b09d41eba038d0
[6] The Guardian: NHS patients dying in hospital corridors, A&E doctors tell Theresa May:
https://www.theguardian.com/society/2018/jan/11/nhs-patients-dying-in-hospital-corridors-doctors-tell-theresa-may
The Telegraph: Long ambulance waits double in a week as NHS winter crisis bites:
http://www.telegraph.co.uk/news/2018/01/04/long-ambulance-waits-double-week-nhs-winter-crisis-bites/
The Guardian: Essex woman dies after waiting nearly four hours for ambulance:
https://www.theguardian.com/uk-news/2018/jan/05/essex-woman-dies-after-waiting-nearly-four-hours-for-ambulance
The Telegraph: NHS hospitals ordered to cancel all routine operations in January as flu spike and bed shortages lead to A&E crisis:
http://www.telegraph.co.uk/news/2018/01/02/nhs-hospitals-ordered-cancel-routine-operations-january/
BBC: Hospitals to delay non-urgent operations:
http://www.bbc.co.uk/news/health-42541412