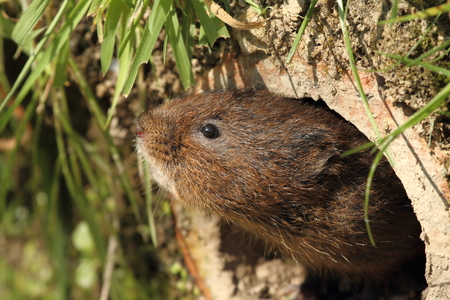 Oct 23rd, 2018
Welsh wildlife
By Becca McCarthy
Water voles, otters and bees and are just some of the animals at risk if a new motorway gets built in Wales. [1] The new motorway would cut through a beautiful stretch of countryside near Newport dubbed "Wales' Amazon rainforest". [2]
Bleddyn, a 38 Degrees member from Wales started his campaign to protect Welsh wildlife because he believes a new motorway would cause more harm than good. [3] He thinks we should invest in cheaper trains and buses instead.
The Welsh government is due to make a decision any day now and a huge petition signed by thousands of people would show them that we don't want our wildlife to be tarmaced over. [4] It could persuade them to save the beautiful Welsh countryside and wildlife for generations to come.
If enough of us come together, this huge motorway could be stopped. Please sign the petition if you want to protect Welsh wildlife:
Transport around Newport needs to be improved but the motorway is expected to cost at least £1bn and may only improve journey times by 10 minutes. [5] And it would mean 125 hectares of special wildlife areas will be lost or damaged. Experts have said that the money would be better spent investing in public transport. [6]
38 Degrees members have a long history of standing up for Britain's nature. Over one million of us took part in a huge campaign to get bee-killing pesticides banned in the UK – and won [7] There's no reason why we can't do the same for water voles and otters in Wales.
Right now, the Welsh Government is at a crossroads. It can carry on and build a huge polluting motorway, or come up with a plan that'll improve travel for everyone in Wales and protect our wildlife. They're making up their minds right now. A huge petition signed by thousands of us today could ensure they make the right decision.
Notes:
[1] BBC Countryfile: Water voles back from the brink in south Wales:
https://www.countryfile.com/news/water-voles-back-from-the-brink-in-south-wales/
[2] The Independent: 'Amazon rainforest' of Wales home to endangered water voles threatened by motorway construction:
https://www.independent.co.uk/environment/wales-gwent-levels-water-voles-motorway-m4-wildlife-trusts-newport-otters-cranes-a8583381.html
[3] 38 Degrees: Protect the 'Amazon Rainforest' of Wales and stop the proposed M4 motorway:
https://you.38degrees.org.uk/petitions/stop-the-proposed-m4
[4] See note 3
[5] See note 2
[6] See note 2
[7] 38 Degrees: Our bees are saved:
https://home.38degrees.org.uk/2017/11/09/our-bees-are-saved/