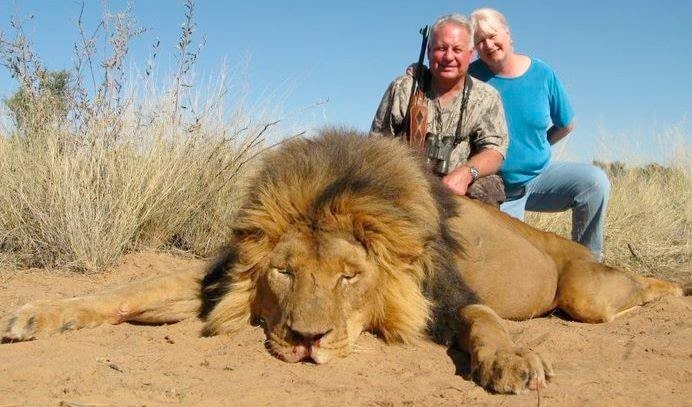 Feb 19th, 2019
Trophy Hunting
By David Innes
British hunters are paying huge sums to travel abroad and kill threatened animalsincluding elephants, lions and rhinos – all to bring back their body parts as "trophies" to hang on the wall. Right now the government allows hundreds of animal trophies to be imported each year – encouraging the killing of these majestic animals for sport. [1]
Environment Minister Michael Gove has the power to stop this – he can simply stop granting the import licences that hunters need to bring their grisly trophies home. [2] Every day more MPs are speaking out in Parliament and a huge public outcry, right now, could be enough to force Michael Gove to take action. [3]
So wildlife charity, Born Free, have started a 38 Degrees petition demanding a UK ban on importing hunting trophies from threatened species. If thousands of us add our names, our pressure could convince him to act to protect these animals before more are shot.
So, if you think animals belong in the wild, not on the wall, sign the petition now. It only takes 30 seconds:
Trophy hunting belongs in the past – we should be looking to protect threatened species into the future, not encouraging them to be killed for fun. Majestic lions should be prowling the plains of Africa, beautiful elephants should be looking after their young, they shouldn't be dodging hunters' bullets or being stuffed and mounted on a wall.
Ending the import of hunting trophies from threatened species is a first step towards ending the hunting of beautiful wild animals for sport altogether.
Together we've persuaded Michael Gove to act before. When over a million 38 Degrees-ers campaigned for a ban on bee killing pesticides and over 320,000 of us campaigned for a new bottle deposit recycling scheme – he listened. [4] Now we can make sure he does the right thing and stops people hunting threatened species just for a trophy.
If you believe elephants, lions, rhinos, and other threatened species should be protected and not killed for sport, sign the petition now:
P.S. Born Free works to ensure that all wild animals, whether living in captivity or in the wild, are treated with compassion and respect. They work across the world to preserve and protect wildlife in its natural habitat – finding compassionate conservation solutions so that humans and wildlife can co-exist peacefully. To find out more about their work, here's a link to their website: https://www.bornfree.org.uk/
NOTES:
[1] The Express: 'Ban trophy hunting' fury as elephant and lion trophies are shipped to the UK:
https://www.express.co.uk/news/nature/1047425/ban-trophy-hunting-big-game-hunting-uk-elephants-lions
Evening Standard: Big-game hunters have brought thousands of gruesome 'trophies' including elephant tusks and body parts to UK by exploiting legal loophole:
https://www.standard.co.uk/news/uk/biggame-hunters-exploiting-legal-loophole-have-brought-thousands-of-trophies-including-two-tonnes-of-a3999606.html
[2] Specifically, the petition will call on Michael Gove to stop granting licences which permit the import of hunting trophies from CITES species:
https://www.cites.org/eng/disc/species.php
Since 2015, anyone looking to import body parts of endangered animals needs to apply for a permit: IBTimes: Hunters now need permits to import lion and elephant trophies into EU but 'more has to be done':
https://www.ibtimes.co.uk/hunters-now-need-permits-import-lion-elephant-trophies-into-eu-more-has-be-done-1487387
[3] Many MPs have signed an Early Day Motion, calling on the Government to commit to halting imports of hunting trophies. Early Day Motions are when MPs call for a discussion in the House of Commons:
https://www.parliament.uk/edm/2017-19/1829
[4] Here's some more information about our successful campaigns on bee killing pesticides and for a new bottle deposit recycling scheme:
https://home.38degrees.org.uk/2017/11/09/our-bees-are-saved/
https://home.38degrees.org.uk/2018/03/28/bottle-deposits-we-won/