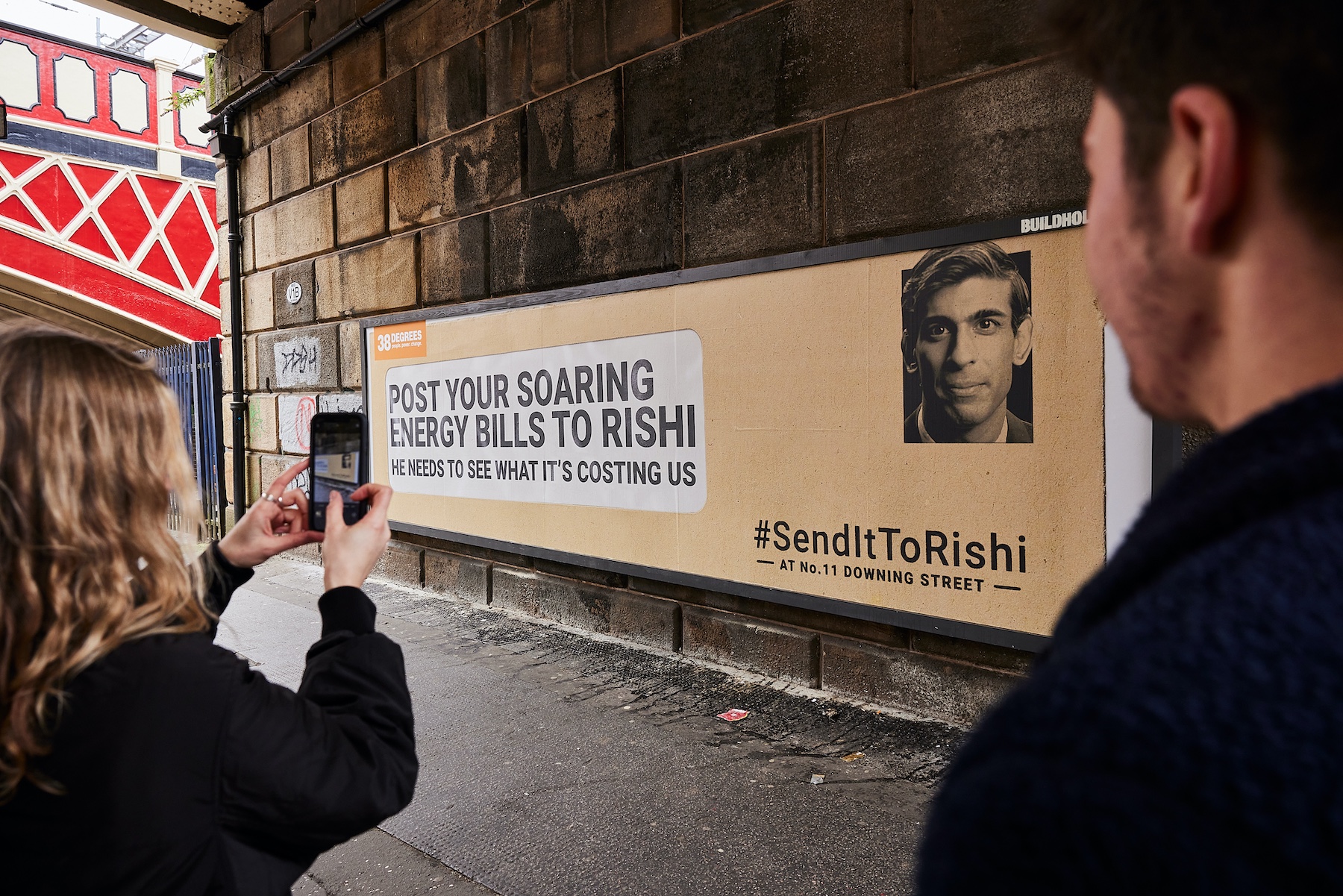 Mar 15th, 2022
New polling reveals lack of public support for Rishi Sunak's plan to tackle energy price crisis
By 38 Degrees team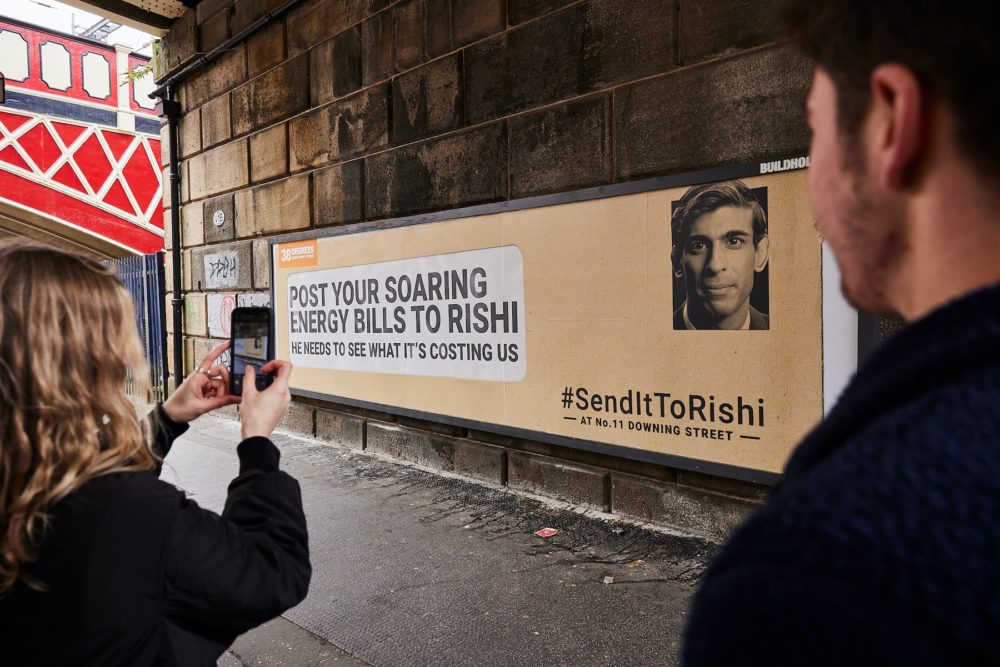 With 3 weeks until the energy price cap rises by 54%, new polling reveals the lack of public support for Rishi Sunak's measures to tackle the crisis

2 in 3 people don't think the Chancellor is doing enough to help people with rising bills, with more than half saying they disagree with his approach to tackling the crisis – while support for a windfall tax on energy giant profits rises

Polling also reveals intense pressure on household budgets, with 3 in 4 already experiencing higher energy bills and 70% having to limit heating in their home

As the public demands tougher action to tackle the energy price crisis, 38 Degrees launches #SendItToRishi, a campaign encouraging people to send their soaring energy bills directly to 11 Downing Street

The public isn't buying Rishi Sunak's plan to tackle the energy price crisis, according to new polling by Survation.
The polling, commissioned by campaign organisation 38 Degrees, reveals that 2 in 3 people (69%) don't think the Chancellor is doing enough to help people with rising bills and more than half disagree with his approach to tackling the crisis.
With only 3 weeks left until energy prices rise again, this lack of support for the Chancellor's measures is driven by households whose finances are already under intense strain. 3 in 4 respondents (74%) said they're already experiencing more expensive energy bills, with:
70% turning off heating for longer periods of time – up 5% on a previous round of polling in January

54% saying they don't use their heating – up 3%

And 53% saying they only heat part of their home – up 5%

These findings mean the Chancellor is facing increased pressure to rethink his approach to supporting households facing record-high energy costs ahead of his Spring Budget. 
Asked about his decision to rule out a windfall tax on the profits of energy companies like BP and Shell, 54% disagreed, stating that he should implement a one-off tax on energy companies. This comes as overall support rose to 68% for a windfall tax, to support households with rising bills.
As the public demands tougher action, 38 Degrees has launched a new campaign: #SendItToRishi. With the Chancellor failing to take the gravity of the crisis seriously, thousands of people are expected to post their energy bills direct to 11 Downing Street.
To mark the launch of the campaign, #SendItToRishi billboards can be found across the country – with members of the public able to directly post a message to the Chancellor about their soaring energy bill in a postbox in the billboard in Birmingham.
Real life impact of soaring bills laid bare
Steve lives in Harborough, Leicestershire with his wife, and their household has been hit hard by the impact of COVID-19 and the cost of living crisis. Already living on a tight budget of £136 a month for food and skipping meals to survive, Steve fears any further rise in energy bills will cripple him. Due to Steve's wife having had major heart surgery and her job being hit by COVID-19 and lockdown, the couple's money worries have escalated significantly.
Steve said: "Things are already tough and yet they're about to get worse. We're living on only £136 a month for food, I'm already skipping meals and I just can't see how I can cut my budget any further. I'm very worried about the future."
Chelsey, 34, from Knowsley, Merseyside and her family have had to look closely at everything they are doing as a result of rising energy bills – from how much they use the washing machine, to cutting back on food shopping. Despite their efforts, the family have racked up £1000 debt as a result of trying to make ends meet and pay their household bills.
Chelsey said:  "Our bills have already risen so we've been paying £205 a month for the last few months. We're doing everything we can to cut our energy use and I've had to cut back on the weekly shop. But we're just trying to make ends meet and still there's nothing we can do to stop the debts racking up. I don't know how we'll cope with another price rise."
Angus O'Brien, Campaigner at 38 Degrees, said: 
"The Chancellor's maths doesn't add up. We've been hearing the same story again and again across the country. Household budgets, meticulously and carefully planned over years, have been decimated by soaring energy bills in a matter of months. And it's about to get much worse.
With the next price hike set to hit in just a few weeks, many people feel they simply have nowhere left to turn. That's why they're writing to the Chancellor as part of our #SendItToRishi campaign, demanding he act decisively to support families through this crisis."
Steve and Chelsey, along with a number of other people sharing their powerful stories about the impact of rising energy bills, are available for interview today. 
For more information or to arrange an interview, please contact Angus O'Brien at angus.o@38degrees or on 07916781524. 
###


Notes to editors
Polling conducted by Survation on behalf of 38 Degrees. Fieldwork conducted: 4th – 7th of March 2022. Population sampled: Residents 18+ living in the UK. Sample size: 2,034.




National Energy Action has calculated that fuel poverty levels are set to rise from 4 million in October 2021 to over 6.5 million after April's price rise. If the typical energy bill reaches £3,000 in October, as currently expected, this figure will rise again to over 8.5 million:

bbc.co.uk/news/business-60619726



About 38 Degrees


Who we are
38 Degrees is made up of 2 million people across the UK who come from all walks of life, from farmers in Aberdeenshire, to nurses in Cornwall. The 2 million of us who take part in campaigns come from very different backgrounds and vote for all political parties and none – but we all agree that politics works better when more of us get involved.


What we do
38 Degrees provides people with more ways to make their voices heard on issues they care about. From signing petitions and contacting our representatives, to crowdfunding ground-breaking research and meeting politicians face to face, together, we make sure we're heard. We run campaigns to make a difference – from saving local libraries, to helping families with the cost of living and standing up for our NHS so that it can care for generations to come.


Who funds us
We are completely independent, funded by tens of thousands of small donations from people who have taken part in our campaigns.